Belgas Regulator | Natural Gas Pressure Regulators in Stock
We are happy to announce that Linc Energy Systems is now an authorized distributor for the BelGas Regulator, a division of Marsh Bellofram.
Belgas Regulator
Belgas has been around for over 40 years manufacturing quality high-pressure gas regulators and low-pressure gas regulators for natural gas, propane, and other fluids.
Residential and Light Industrial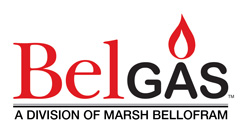 Belgas offers both compact and traditional residential pressure regulators for natural gas, air, propane, LP, and general-purpose gas pressure regulation. The units are used in commercial, residential and, light industrial burners and unit heaters. Models offered by Linc Energy in this class include the P140 and the P143 (both partial relief).
Commercial and Industrial
Belgas also provides small to full-size commercial, manual, direct-acting, self-operating, spring-loaded adjustable gas pressure regulators for pressure reduction of natural gas. The models we offer in this regulator classification are the P300 Series (partial relief), P200 Series [P201 (non-relieving), P202 (partial relief), P203 (partial relief – monitor), P212 (full relief)].
Industrial
We also offer the Belgas P133 as a gas pressure reducing regulator ideal for commercial and industrial furnaces and burners, where accuracy and sensitivity are critical. The Belgas P134 is a variation of the P133 and has an onboard registration tube, circled in the figure on the right, permitting installation without the external pressure registration needed on the P133.
High Pressure Reducing Regulators
For oil and gas industry applications such as farm tap regulation, monitoring regulators, first-cut or second-stage transmission to the distribution bridge, there is the P627, a spring-loaded, direct-operated, low and, high gas pressure regulator.
Liquid Gas Regulator
For industrial chemical processes, chemical production and, electronics manufacturing, we offer the W627, a spring-loaded, direct-operated liquified gas service regulator.
Belgas Regulator Distributor
Our inventory is available from Lakewood, Colorado. Additionally, cross-reference information to the other popular brands [Itron (Actaris, Sprague), Emerson Fisher, Elster American Meter (Honeywell), and Sensus (Rockwell, Invensys, Equimeter)] is available on our product pages. When in doubt, always message us, and we are happy to assist with matching your needs to the correct Belgas regulator.