DUALCO Grease Guns and Lubrication Systems

DUALCO has been manufacturing valve lubrication products since 1960. The company is in Houston, Texas, and its primary focus is manufacturing valve lubrication equipment for the maintenance of ball valves, plug valves, and gate valves. They have an extensive line of grease guns, couplers, fittings, and nozzle accessories, from portable industrial high-pressure grease guns to large-scale skid assemblies and automation. Additionally, they offer a full line of valve lubricants, valve sealants, packing and valve cleaners, and premium valve maintenance training.
Portable Industrial Lubrication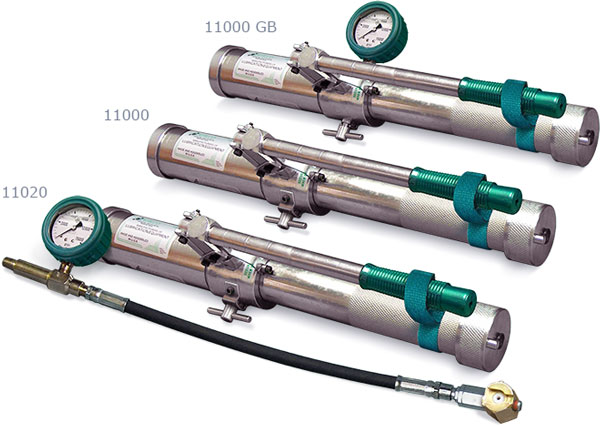 Dualco offers various high-pressure applicators, such as screw prime grease guns, hydraulic grease guns, air/hydraulic injection guns, and foot-operated hydraulic injection guns, for valve maintenance.
Hydraulic Grease Guns
The hydraulic grease gun models are for high-pressure lubricating applications, including ball, gate, and plug valves. This equipment is easy-to-operate, efficient, rugged, longlasting, and rated up to 10,000 PSI. The grease guns work at high temperatures and in harsh services, including steam, hot oil, hot compressed gas, and offshore platforms. Learn more. >
11725 Foot-Operated Dualco Grease Gun
The foot-operated hydraulic grease gun is robust, easy-to-operate, lightweight, with a fast discharge. This equipment is ideal for pumping valve flush, cleaners, and lube sealants into ball valves and plug valves. Learn more. >
Large Scale Skid Assemblies and Automation
Both standard and custom configurations for lubrication are available, including skid assemblies, Multiple-valve automation, and SCADA lube remote automation.
Automatic Grease Lubricator Multi-Point (D.A.M.)
The D.A.M™ is an automated lubrication system, which automatically lubricates multiple valves while maintaining accurate lubricant levels without under- or over-lubricating. Learn more. >
SCADA-Operated Lubrication Unit (S.O.L.U.)
The SCADA-Operated Lubrication Unit is a portable digital interface designed for remote operation to maintain proper valve lubrication levels. Learn more. >
Dualco Distributors
Linc Energy Systems is an authorized distributor of Dualco grease gun systems, valve grease, sealant, valve cleaner.
Articles of Interest on Valve Maintenance
Valve maintenance | Valve lubrication equipment | lubricant sealant cleanser
A reliable source for valve lubrication equipment, valve lubricant, and sealant for oil & gas plug valves, ball valves, and gate valves, Read More >
7 Grease Gun Tips and Plug and Ball Valve Maintenance
Here are seven high-pressure grease gun tips and maintenance guidelines involving fittings and lube sealants for ball valves and plug valves. Read More >
Please note that this is not a Dualco grease gun demonstration.