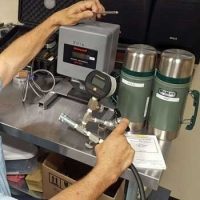 Honeywell Mercury Instrument Calibration

Linc Energy Systems provides repair, calibration, and maintenance services for Honeywell Mercury Instruments electronic correctors and electronic recorders.
Why Choose Linc Energy Systems?
We are an authorized reseller of Honeywell Mercury Instruments and are continuously updated on the equipment. If your company seeks an independent third-party inspection and calibration of your instruments, Linc Energy Systems offers practical solutions. Additionally, we service the products we sell, and our senior technician has over 30 years of experience in Honeywell/Mercury Instruments. If your instruments are still under warranty, however, please contact Honeywell Mercury Instruments directly.
Honeywell Mercury Instruments we Service
EC-AT Corrector
Mini-Max Corrector
MINI-AT Corrector
Mini-Max Rotary Corrector
Electronic Data Recorders ERX
Calibrations and Services
Calibration of Electronic Correctors
Whether an electronic corrector or the ERX electronic data recorder, our calibration ranges for pressure are 6 inches of water column (6″ WC)-1000 PSIG. Our temperature calibration range is 32°F-150°F
Pressure Transducer Replacements
If your instrument requires a new pressure transducer, our staff is trained to handle such a task and assure that the sensor is properly calibrated.
Consultations
Linc Energy Systems is available for consultations on installations of Honeywell Mercury Instruments. We are also available to troubleshoot equipment concerns and consult on pressure and flow sizing for an application as well as a host of other services:
Honeywell Mercury Instruments Consultations
Training in the field on Honeywell Mercury Instruments
Asset Management–Tracking for compliance or value
Audit trail
Troubleshooting
Data collection and communications from field to host
Program management
Consultation
Operator Qualification (OQ) Training
Billing validations, auditing, or load studies
Flow comparisons, check metering, pressure verifications
Measurement–Gather data efficiently and reliably with repeatability
Testing of new instruments and applications to Data Collection
To discuss how our company can help resolve your issues, call 303 697-6701 or email sales [at] lincenergysystems [dot] com.