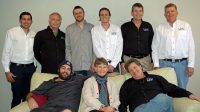 Leadership
Meet Linc Energy Systems leadership and staff. For over thirty years, we have served the natural gas industry as the premier source of products and services as a manufacturers' rep, distributor, and contractor.

Susan Bender
CEO and President
Susan Bender is the founder, CEO, and President of Linc Energy Systems. She has led the organization since 1990. Bender won the Denver Business Journal Outstanding Woman in Business (Energy) and Top Women in Energy designations. She also earned the Eclipse Award for Outstanding Company Culture by the NWBOC, and her business is an inductee of the NWBOC Hall of Fame. Bender's company received the Honeywell Process Controls Diamond Channel Partner Award repeatedly and the Sage Metering Most Improved Sales Representative award. Her company won the Best of Wheat Ridge Manufacturers Agent Award for multiple consecutive years and the PSCCo Woman Business of the Year. Bender dedicates herself to her business, the community, and her family. She is a philanthropist, founder of The Susan M. Bender Family Fund managed by The Denver Foundation, a platinum sponsor of Project Angel Heart, and founding member of Impact 100 Denver.
---
Jeffrey Cox
Vice President

Jeffrey Cox is the Vice President of Sales and currently manages the sales efforts and oversees the Xcel Energy service contract. In the early 1990s, Jeff was Linc Energy's Project Manager for the Xcel Energy electronic telemetering project, and after three years, he joined Ditch Witch to increase his sales experience. Eight years later, he returned to Linc Energy Systems, where he has remained since 2004. Having owned and operated his own business in New Jersey, Jeff provides a wealth of experience and expertise to Linc Energy Systems.
Jeff is an alumnus of Villanova University. He has been married for over 20 years and has two sons. In his spare time, he enjoys skiing and boating with his family.
---
Team
If we had to sum up the Linc Energy Systems' employees in three words, it would be experience, dedication, and reliability. We value our team members and recognize the importance of their roles, including our newest members, who represent hope for our continued success.
---
Brando Bustos
Senior Technician
Brando Bustos joined Linc Energy Systems in 2016 as a technician. He is responsible for testing, diagnostics, and technical support for new product start-ups and services on select product lines. Bustos also assists as-needed in our Utility Service division. Brando attended Red Rocks Community College, where he studied pre-engineering courses. He has Gas Pipeline Operator Qualification (OQ) training and Swagelok Tube Fitting installation training. Brando is also a professional soccer player and coach for the Colorado Blizzard, a Major Area Soccer League 2. Before joining Linc Energy Systems, Brando worked for Interwest Safety Supply as a warehouse helper and forklift driver. Formerly from Mexico, Brando moved to the United States in 2012 and became a U.S. citizen shortly afterward. Mr. Bustos is bilingual, and the best way to reach him is by emailing b.bustos [at] LincEnergySystems [dot] com.
---
Leanne Chalker
Bookkeeper

Leanne Chalker recently joined Linc Energy Systems as the bookkeeper. Leanne graduated in 2013 from MSU Denver, earning her degree in Management. For the past 20 years, Leanne has worked in the private business sector in various industries from startups, including oil and gas and security consulting and training. In her spare time, Leanne enjoys spending time with her husband, two sons, grandchildren, and siblings. You can reach Leanne by emailing l.chalker [at] LincEnergySystems [dot] com.
---
Brian Cox
Inside Sales Manager

Brian Cox is the Linc Energy Systems Inside Sales Manager. He is responsible for inside sales. He joined the company in 2014 as a sales associate after a 20-year career in the financial market. As an NYSE broker, Cox traded crude oil, heating oil, gasoline, and natural gas. He graduated with a B.A. in economics from Villanova University. He enjoys skiing, both water and snow, watching basketball, and spending time with two daughters. The best way to reach Mr. Cox is to call him at (303) 697-6701 or by emailing b.cox [at] LincEnergySystems [dot] com.
---
Garrett Cox
Director of Operations
Garrett Cox is responsible for sales and business development in our southern-most territory, New Mexico, and southern Colorado portions. Garrett's additional responsibilities include working in the warehouse, changing regulator springs and orifices, and keeping it tidy. Garrett attends Metro State University in his spare time, where he majors in management and minors in economics. Additionally, he enjoys snowboarding, camping, and boating. Also, an avid lacrosse player, he likes mentoring kids through the Coyote youth lacrosse program.
---
Lucas Cox
Sales
Lucas Cox joined the company in 2020 and is responsible for inside sales. Much of his time involves sizing and selling gas regulators and meters. Before joining the company, he was in the foodservice industry and worked in capacities as a server, cook, and manager. Additionally, he has been a ski instructor. Lucas attended Colorado Mountain College. He is an avid skier, a wakeboarder, hiker, and master of a blue merle Australian Shepherd. You can reach Mr. Cox by emailing l.cox [at] LincEnergySystems [dot] com.
---
Kenneth C. Forward (K.C.)
Sales Director

Kenneth C. Forward joined Linc Energy Systems in early 2017 as the Sales Director and is responsible for leading our outside sales staff. He prefers to be called K.C., and his territory includes Colorado, Utah, New Mexico, Idaho, Montana, Wyoming, and western states for select principals. K.C. has 20 years' experience in sales and sales leadership in various industries representing different products and services. He has a BS in Business Administration with an emphasis in advertising and marketing from Oakland University in Rochester, Michigan. You can reach K.C. by emailing kc.forward [at] LincEnergySystems [dot] com, or calling (303) 817-0148.
---
Sue Gallanter
Vice President of Marketing
Sue Gallanter is our marketing department's face and responsible for digital marketing and leading marketing strategy at the company. In Gallanter's early career, she worked at an international mining company in the extractive industry, where she was involved in technical research. Subsequently, she co-created TechSearch, a consulting firm filling staff needs for the solar, oil, and gas industry. Her career transitioned into nonprofits after volunteering at Hospice of St. John, leading to various senior-level and executive positions involved in marketing at Qualife Wellness Community and Planned Parenthood of the Rocky Mountains. Today she continues to volunteer her services at her favorite nonprofits, including Project Angel Heart. Ms. Gallanter is a half-marathon runner; she snowshoes, skis, and bikes. She is also an avid reader and enjoys being with her family, including two daughters, sons-in-law, three grandsons, and her partner.
---
Russ Isaac
National Sales Director
Russ Isaac joined the company in 2015 as the national sales director, responsible for leading the sales of the GPL Odorizers' equipment line. He brings a wealth of knowledge to the company, having senior-level marketing & sales and business development experience. Russ is the proud father of triplet children and lives with his wife in Harmony, Florida. You can reach Mr. Isaac at r.isaac [at] LincEnergySystems [dot] com.
---
Preston Marcoux, EI
Director of Engineering
Preston Marcoux joined Linc Energy Systems in 2017 as our Mechanical Engineer, previously working as our intern from 2014 -2016. He is responsible for product development, engineering, and testing for highly engineered products. Preston also assists in the design, technical documentation (CAD), and programming/coding for the odorizer line. He graduated from the University of Colorado at Boulder with a BSME (Mechanical Engineering). Preston has a SOLIDWORKS Associate certification and an FE-EI certification. His academic honors include being a Goldshirt Scholar, and he was in the CU Boulder Honors Engineering Program. In Preston's spare time, he juggles fire torches and strums a guitar. The best way to reach Mr. Marcoux, who also answers by "P," is by emailing him at p.marcoux [at] LincEnergySystems [dot] com.
---
Thomas E. McDougal, EE
Senior Engineer (Consultant)

Thomas McDougal currently manages the meter and regulator operations at Linc Energy Systems and is currently working on a flare gas measurement project. For over fifteen years, he worked along with mechanical contractors and engineering firms to approve the use of gas regulators and gas meters in desired applications. Before this, Tom spent 28 years designing gas regulator and gas meter applications for Xcel Energy (formerly Public Service Company of Colorado) in the Gas Utilization & Testing Laboratory. Here, he was responsible for testing and designing two PSIG fuel line systems for converting propane customers to natural gas.
With over forty years of professional experience, Tom offers insight rarely found in the industry. Tom has a B.S. Degree in Electrical Engineering from the University of Denver.
---
Adrian Stang
Technician

Adrian Stang joined the company in 2020 as a technician. He works in the service division, which installs and services natural gas odorization systems. Before joining the company, Adrian was a machinist and draftsperson for six years in the aerospace industry. During that time, part of his responsibility was teaching the University of Colorado Boulder Aerospace Engineering students machining, welding, assembly, and drafting. Adrian is also a certified Autodesk draftsperson with both Autodesk and SolidWorks experience. You may reach Mr. Stang at a.stang [at] LincEnergySystems [dot] com.
---
Spencer Toft
Lead Technician
Spencer Toft is a Linc Energy Systems Lead Technician who works in our Contract Services division assisting with Operator Qualification training and is responsible for new product start-ups, service, and training on select principals' products. Additionally, Toft is AutoCAD certified and supports engineering efforts through drafting plans and drawings. He began at the company in 2015 after attending Arapahoe Community College, where he studied drafting and computer-aided design. Before and while attending college, he was in the construction industry for 12 years, where he built commercial science laboratories. While born in California, Spencer moved to Colorado in 1989. He and his wife have three children, and in his spare time, he flips burgers on his grill, fishes, and spends time with his family. The best way to reach Mr. Toft is to call him at (303) 697-6701 or email s.toft [at] LincEnergySystems [dot] com.