Sizing Natural Gas Regulators
Are you searching for a natural gas regulator? Or do you want to learn how to size a gas regulator? In either case, you've come to the right place. As a leading stocking distributor of regulators, we're happy to share what you need to know to select the correct regulator for your applications. Of course, if you're in the market for a regulator, message us:
 4 Gas Regulator Types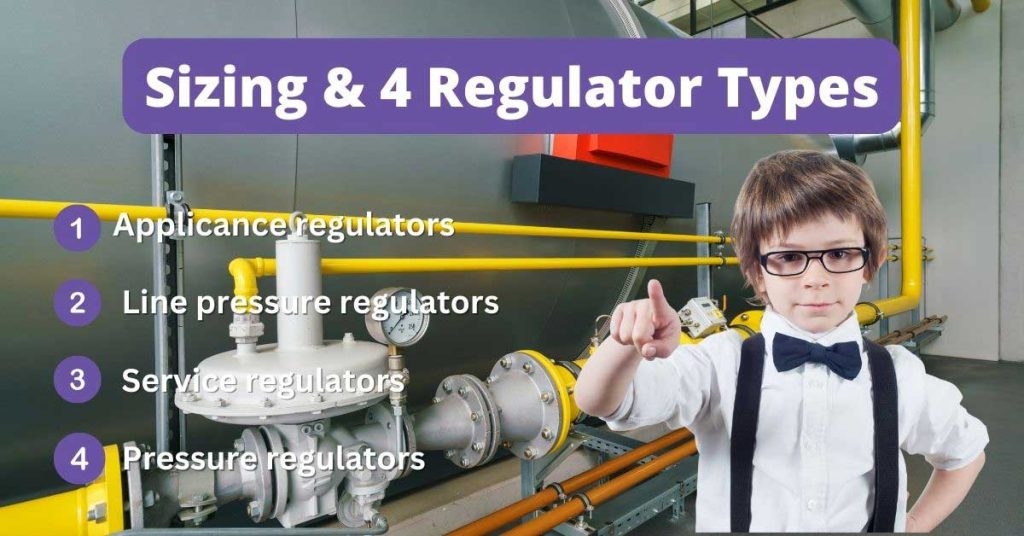 Before sizing, understand the regulator's purpose. There are four primary applications for gas regulators:
Appliance regulators control the gas pressure running to an appliance.
Line gas regulators control the gas pressure between a service regulator and an appliance regulator on a gas line.
Service regulators reduce service line gas pressure to the desired delivery pressure.
Pressure regulators reduce, control, and maintain the pressure of a specific portion of a pipe system.
Sizing Cheat Sheet
7 Things You Need for Natural Gas Regulator Sizing
To select a natural gas regulator, here are the seven things you need to know to size your natural gas regulator:
Gas type – What type of gas are you regulating? While most customers inquire about natural gas or methane, we also help control propane (LPG).
Inlet and outlet pressure – What is the inlet and desired outlet pressure? The units of measure here are either PSIG or WC. If you do not have a pressure gauge, you can always call your gas distributor or inquire about some of our excellent gauges (gages) available.
Gas flow – What are the gas load and capacity? What are the minimum and maximum expected capacities in BTU/hr? Or CFH?

Flow is typically expressed in CFH (cubic feet per hour or CFM (minute)
1 CF = one cubic foot of gas = 1,000 Btu
1 CFH = one cubic foot of gas per hour = 1,000 Btu/hour
100 CF = 100,000 Btu = 1 Therm

Pipe size – What is the pipe size? Regulators are typically available in ½" through 4″.
Altitude – Altitude affects regulator sizing. Atmospheric pressure reduces with altitude, so we must ascertain the regulator's intended elevation. Learn more about the effects of altitude.
Location – Is the regulator to be indoors or outdoors? Consider a line pressure regulator with a vent limiter and an overpressure protection device (OPD) if indoors. Learn more about Gas Line Pressure versus Appliance Control regulators.
Noise – Is noise an issue? Or vibrations? Humming, buzzing, chugging, and vibrations can occur for various reasons (harmonic instability, hunting, feedback) in a gas system.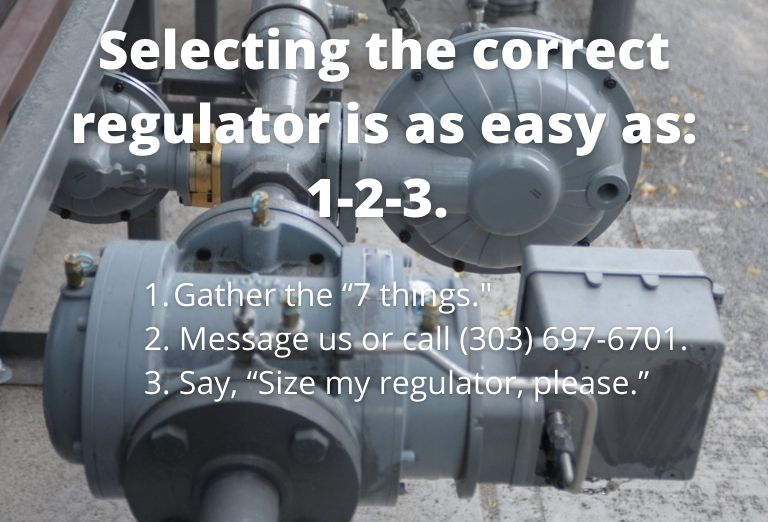 Selecting the Correct Unit for an Application
If you have the answers to the seven items mentioned above, you have what you need to select the correct regulator. Call us at 303 697-6701 – or message us – and we will gladly assist you with sizing your application.
Regulator Manufacturers' Sizing Tools
Some manufacturers offer sizing programs on their websites. Here is an example:
Are you looking for Gas Pressure Regulators?
We offer our clients the best products for their commercial, industrial, and utility market needs. We typically stock regulators from:
Please message us if you don't see what you are looking for, as we cannot publish all product offerings. See our Sales Team page if you want to connect with a salesperson.