6 Things to Know for Sizing Natural Gas Regulators
Continuing my "Back to Basics" series, I thought I would address sizing natural gas regulators.
Natural Gas Regulator Sizing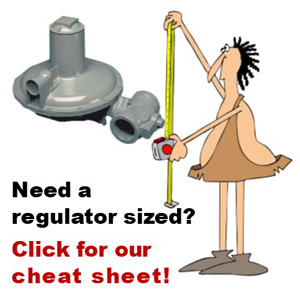 As a stocking distributor of natural gas regulators, my customers often ask which regulator to use for a particular application. I usually ask a few questions and can quickly direct the customer to a product. Occasionally a DIY-type (do-it-yourself) will ask, "What's the secret to selecting the correct product?"
There's no secret, and I am happy to share the information, which is why I am posting it here. There are six areas which help ascertain which regulator to recommend:
What type of gas are you regulating? While most of my customers inquire about natural gas or methane, I can assist in the regulation of other fuel gases such as propane (LPG).
What is the inlet pressure? If you do not have a pressure gauge, you can always call your gas distributor or inquire about some of the excellent gauges (gages) we have available. The units of measure here are either PSIG or WC.
What is the desired outlet pressure? The units are usually WC, though they may be PSIG.
What is the gas flow range? Alternatively, what are the gas load and capacity? What is the minimal and maximum expected capacity in units of CFH, MBH, or BTUH?

What is the pipe size? Regulators are usually available in sizes ½" through 4″.

Is the regulator to be indoors or outdoors? If the regulator is to be indoors, consider a line pressure regulator with a vent limiter and an overpressure protection device (OPD). More available on this on Gas Line Pressure versus Appliance Control.
Selecting the Correct Unit
If you have the answers to these questions, you have the information needed to select the correct regulator. However, without having a background and knowledge of regulator capabilities, you may find yourself studying endless sizing charts and graphs.
Get out your magnifying glass and pore through those manufacturer sizing charts available in the catalogs.
Try the sizing programs offered by various manufacturers, though, they are not foolproof, and until they are, I personally still size my customer's regulators the old-fashioned way.
Call us at 303 697-6701 – or message us – and we will be happy to assist you with sizing your application.