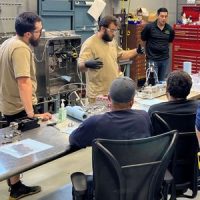 Classes for GPL Odorization Systems
Linc Energy Systems is the only authorized company to train in the safe and efficient operation of GPL odorization systems. We offer classes to teach users of GPL equipment to satisfy company safety policies and regulatory requirements.
Our Standard Training for GPL Odorization Systems (Standard Training) is available through ongoing classes at Linc Energy Systems headquarters in Lakewood, Colorado. We offer two Standard Training classes, each focusing on a different GPL odorization system (GPL 750 or GPL 10000). We also offer custom classes for those companies requiring deviation from our current training programs.
For the Standard Classes, please reserve your spot early (dates are listed on the individual Class pages) as the classes are limited to eight students and fill up quickly.
Upon completing the class (and passing a written test), the student will receive a certification indicating that the employee was trained in the safe operation of the specified equipment. This certification satisfies GPL Odorizers manufacturer's training recommendations. This certificate may also assist the student's employer in demonstrating compliance with OSHA and PHMSA regulations.
The GPL Standard 10000 technical course was fundamental to my ability to understand and operate the GPL 10000. All who operate or maintain the GPL 10000 would benefit from this course. I can confidently perform the maintenance required to keep the system operating at peak efficiency."

—Parker Fulton, Pipeline Conditioning, Field Engineer