GPL Odorizers - Natural Gas Odorization and Odorant Injection Systems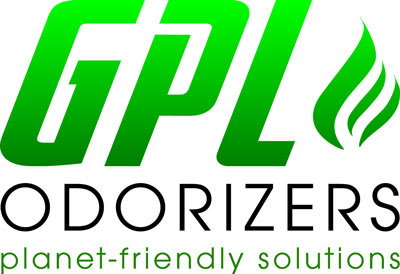 GPL Odorizers manufactures environmentally-friendly odorization and odorant injection systems for natural gas and other gases. Unlike other systems, our odorizers are ventless, and they do not discharge gas into the atmosphere, making GPL Odorizers the most planet-friendly odorant injection system on the market. Our odorizers are self-contained, therefore, do not release gas, and this improves safety, saves pipeline gas, reduces odor, and subsequently, lowers leak call complaints.
Additionally, GPL Odorizers have fewer moving parts than the leading competitive odorization systems, which means less maintenance over the life of the unit. At GPL Odorizers, we believe simple is better and strive to provide planet-friendly solutions.
Our Odorization Systems
GPL Odorizers 750
(Patented)
The GPL 750 provides accurate and optimal natural gas odorization in low flow (even no flow) and intermittent gas flow systems. The GPL 750 is for systems ranging from no flow to 750 MCFH and up to 250 psi. It is simple in design, eco-responsible, and SMART, offering remote data and control capabilities.
GPL 10000
(Patented)
The GPL 10000 (formerly the Sentry Equipment and Zeck Systems Z10000) is the ideal odorant injection system for high-volume and high-pressure applications. The unit provides accurate odorization for gas with flow rates from 10,000K to 10,000,000 SCFH with excellent full-range accuracy (0.2%) for pipelines with pressure up to 1480 PSI.
Learn More>
GPL Z9000
(Patented)
Please note that the GPL 750 has replaced the Z9000.
The GPL Z9000 was first introduced in 2003 (Zeck Systems Z9000) as a safe, accurate, and straightforward solution for odorizing pipelines with gas flow ranging from 1,000 to 750,000 SCFH when pressures are below 250 PSI. It is a proven system with communication features that make the unit ideal for remote gas well locations, yet given its small physical footprint; it's also perfect for urban city gates. Given that there are only two moving parts, most issues were investigated remotely. The Z9000 has been replaced by the GPL 750.
Natural Gas Odorant Injection Accessories
Fiberglass buildings
To add the extra level of protection, GPL Odorizers offers the upgrade of including a Shelter Works custom-built fiberglass building to house the entire natural gas odorant injection system.
GPL 100 Thermal Mass Flow Meter
The GPL 100 thermal mass flow meter is recommended for use with the GPL 750 Odorization System as it has excellent low flow sensitivity and high rangeability. Read our case study "Odorizer and Flow Meter Solve Low-Flow Odorization Challenges."
Custom Solutions
Portable Turnkey Odorant Injection System
The GPL-750-V-120-P is a portable odorant injection system designed for ease of installation and portability. A built-in metal pallet permits a forklift or pallet jack to transfer the system easily. While this is not a temporary system, its built-in movability allows the user to move the unit to another application if so needed. Read More.
About Gas Odorization
Natural gas (and propane) by itself is odorless and combustible. If ignitable gases are undetected, an unsafe and potentially disastrous condition is produced. The impetus to add odor (odorize) to natural gas and other gases was created after non-odorized natural gas ignited in a Texas school, killing over 200 children in 1937. Today, federal regulations mandate the odorization of combustible gases so that gas can readily be perceived by its odorized smell (49 CFR 192.625).
Features and Benefits
Ventless (no gas discharged)
Improved safety
Saves pipeline gas
Environmentally friendly
Lowers leak call complaints
Few moving parts
Excellent full-range accuracy
Our Odorizer History
For three generations, the Zeck family was the pioneer in the design and development of simple, yet accurate, natural gas odorization systems. In 2003, Zeck Systems introduced the Z9000 as a simplified and efficient approach to self-contained odorant injection systems with few moving parts. In 2010, Zeck Systems was acquired by Sentry Equipment Corp. GPL Odorizers acquired the assets of the Sentry Equipment's odorization product line in 2015 and continues to manufacture the Zeck Systems and Sentry Equipment Corp innovative odorization products in Wheat Ridge, Colorado.
GPL Odorizers' Representatives
To learn who the manufacturers' representative is in your area call Linc Energy Systems at (303) 697-6701.