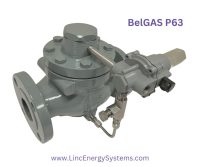 P63 Relief Valve or Back Pressure Regulator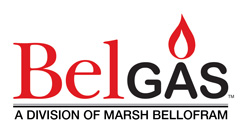 The Belgas P63 is a pilot-operated relief valve or backpressure regulator. The main valve can deliver large flow capacities while the pilot control maintains precise setpoints. The pilots are equipped with a hollow stem permitting quick loading to the top of the valve plug, which keeps a tight seal in normal operating conditions.
Type P63 Reliefe Valve/Back Pressure Regulator
The BelGAS P63 relief valve or backpressure regulator maintains upstream pressure below a desired setpoint. When the upstream pressure rises above the setpoint, the main valve strokes allow the unit to flow and decrease the upstream pressure below the setpoint. Once the pressure falls below the setpoint, the main valve shuts, preventing flow through the unit and remaining closed as long as upstream pressure is below the unit's setpoint.
The P63 is Belgas' highest-capacity relief valve.
Features & Benefits
Features
Liquid and gas service
Versatile over an extended pressure due to various Belgas pilots
In-line Serviceability – Top entry design reduces maintenance time. The trim parts can be cleaned, inspected, and replaced without removing the body from the pipeline. If using an actuator,  its stem does not need to be disconnected.
High relief capacity because of its plug and cage design
Optional Travel Indicator - Measures real-time valve opening/throttling
Stable Startup — The unique hollow valve stem in the pilot provides quick pressure registration on top of the main valve plug preventing the main valve from unseating during normal system startup.
Quick Change Trim Package — The optional quick change trim package permits faster field maintenance. With standard P63 construction, only the body flange cap screws or stud bolt nuts need removal for rapid trim change.
Sizes
Specifications
Relief Valve or Back Pressure Regulator Specs
Plug
316 Stainless Steel
Type P63 Main Valve
Body and Body Flange - WCB Steel
Cage - Stainless Steel (Standard Linear)
Size/Weight
Applications
P63 Applications
Commercial and Industrial
City/District Gate Relief/Bypass
Plant Air Systems