Maxitrol 325 L Series Line Pressure Regulator

Maxitrol is the manufacturer of premium natural gas regulators used in commercial, residential, and industrial applications. Frank Kern Jr. acquired the Detroit Regulator Company in 1946. In 1953, the company changed its name to Maxitrol Company after being awarded a patent for its Straight-Thru-Flow (STF) regulator design, known as the Maxitrol (for Maximum Control). This innovative design provided a significant reduction in pressure drop, permitting the regulator for use at higher capacities at low inlet pressures. This change had a substantial impact on the industry and is the foundation of the company's growth.
Maxitrol 325 Series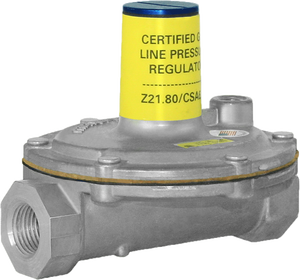 One of Maxitrol's latest innovations is the Maxitrol 325 L Series regulators for 2-psi and 5-psi piping systems. Models are available for appliance main burner or pilot applications and as line pressure regulators. The regulators are suitable for natural gas, manufactured gas, mixed gases, liquefied petroleum gases, and LP gas-air mixtures.
We distribute the line pressure regulators and regulators with OPD (overpressure protection), specifically models 325-3L, 325-5L, 325-7AL, 325-9L, and 325-11L.
The company headquarters is in Southfield, Michigan,n with production facilities in Blissfield and Colon, Michigan.
Stocking Distributor
Linc Energy is a distributor for the Maxitrol regulators.
Articles of Interest
Line Pressure vs. Appliance Regulators
Do you need a line pressure or appliance regulator? Do the standards confuse you? Get answers in this Maxitrol 325 regulator article and cheat sheet. Read More >
Venting Gas | Overpressure Protection Devices for Appliances
If the gas line pressure to an appliance exceeds the appliance's MAOP, how can we reduce the line pressure to meet International Fuel Gas Code regulations? Read More >