Carlon Water Meters

Carlon Meter manufactures high-quality and long-lasting potable water meters and controls for industrial, commercial, and municipal markets. It also produces residential water meters that meet or exceed AWWA specifications, including having a "no-lead" Eco Brass. The Carlon water meter equipment is accurate, reliable, and designed for long, continuous service. The company was found in 1962 and is in Grand Haven, Michigan.
Water Meters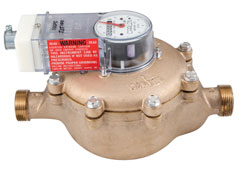 Carlon Meter offers positive displacement (piston), velocity (multi-jet), and turbine meters for potable water from ½" – 8″ pipe, with some larger meter sizes available upon request. Most water meters come with connections or flanges unless specified differently by the customer.
Carlon produces a signal splitter and programmable controls, including pump controls, batch controllers, timers, and a car logger. When combined with the industrial turbine water meters, the car logger provides real-time flow data to manage energy costs. The logger provides real-time flow information as a stand-alone device or with an RS485 or internet connection to the user's building management system.
SSM/SSMR series – Commercial and residential velocity-style water meters (totalizing and digital remote counter optional)
Cold Water Turbine – Industrial meter for high-volume applications and control of process equipment
JSJ Series – Industrial and commercial water treatment systems where the amount of water flow establishes the chemical
Carlon also offers car loggers, batch controls, timer controls, pump control, a signal splitter, and a remote counter to control their water meters. Read more >
Carlon Meter Distributor
Linc Energy Systems is a Carlon Meter distributor for water meters in the Rocky Mountain States.
Carlon Water Meters are:
Both electric contacting and standard totalizing water meters in a full range of sizes from 5/8-20 inches.
An extensive line of water treatment controls to provide the control needed for cooling towers, boilers, and processing/blending applications.
The new control cabinets meet NEMA 12 requirements, providing better environmental protection.
All Carlon bronze body water meters conform to AWWA Standard Specifications for accuracy and function.
For more information on Carlon Water Meters, visit water meters.
Articles of Interest
What are the most common water meter types?
What are the standard water meter types? Water metering is the measurement of water consumption and is performed residentially, commercially, and industrially. Read More.
How to read a water meter?