Honeywell Mercury Instruments Instrumentation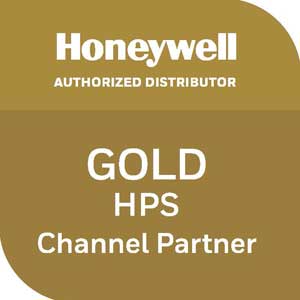 Honeywell Mercury Instruments provides the highest standard for designing and producing precision natural gas instrumentation that measures and monitors gas pressure, temperature, volume, and flow for the natural gas industry. The company started as an industrial thermometer manufacturer in 1950, but by the mid-1960s, it had shifted its focus to natural gas measurement. In 2007, the RMG Group acquired Mercury Instruments; in 2009, Honeywell purchased the "group."
Natural Gas Volume Instrumentation
Electronic Corrector Systems
Honeywell Mercury electronic correctors provide corrected gas volume from the gas meter and have become the benchmark for precision instrumentation.
EC 350 Gas Volume Corrector – A UMB- and rotary-mount corrector that simplifies and optimizes custody transfer and industrial gas analysis.
Electronic Temperature Compensation TCI – The TCI is the most advanced electronic temperature compensating index for natural gas rotary meters. The TCI is an ideal replacement for mechanical indexes.
Turbo Corrector– A Mini-AT with an internal expansion board called the Turbine Interface Board (TIB) takes high-frequency main and sense rotor signals from an Invensys Auto-Adjust Turbo-Meter (AAT) and computes the adjusted volume based on AAT algorithms.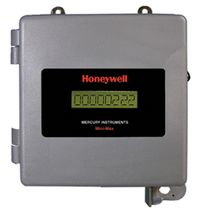 Turbo Monitor – The Turbo monitor is an electronic device that receives inputs from the central and sense rotors of an Invensys Auto-Adjust Turbo-Meter (AAT) and calculates the adjusted volume, unadjusted volume, and percent deviation from factory calibration.
Mini-Max Rotary Corrector – A fully-featured Mini-Max electronic gas volume corrector specially adapted for direct mounting on several rotary meters.
Mercury Instruments Mini-Max Corrector is a high-performance electronic volume corrector with automated precision and reliability.
Mini-AT Volume Corrector – A fully-featured, standalone, electronic gas volume corrector that delivers reliable and cost-effective volume measurement in natural gas operations.
Pressure Recorders
ER 350 Electronic Pressure Recorder simplifies and optimizes pressure monitoring for gas distribution and transmission companies.
Electronic Data Recorders ERX is a microprocessor-based, stand-alone self-powered data recorder that measures gas pressure, gas temperature, case temperature, and applied power supplies.
Pulse Accumulator – A wall-mounted, battery-powered electronic recorder of low-frequency pulses. This device assists users by providing necessary data collection through a modem or other wireless technology.
The Honeywell Mercury Instruments mechanical pressure recorder is an economical method of recording pressure, temperature, or volume and provides paper documentation.
Gas meter pulse transmitters or pulsers send uncorrected volume outputs from a gas meter to remote totalizing and recording equipment. See Pulse Transmitter 212 and Pulse Transmitter 21o.
Linc Energy Systems is also an authorized distributor for Honeywell Process Solutions.
NEWS:
Mercury Honeywell is Sunsetting the Mini-Max
Honeywell Mercury gave us another reason to adopt the EC 350 ECV; its predecessor, the Mini-Max, will not be manufactured after June 1, 2019.