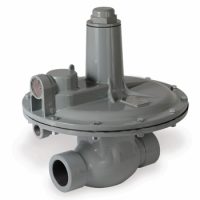 P133 Small Industrial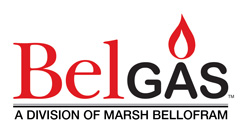 The BelGAS P133 gas pressure reducing regulator is ideal for commercial and industrial furnaces and burners, where accuracy and sensitivity are critical.
BelGAS Gas Pressure Reducing Regulator
The P133 has a wide range of pressure capabilities from 2″ WC up to 10 PSIG. The compact BelGAS Type P133 reduces the effects of supply pressure changes on output pressure through a balanced diaphragm design for accurate control. With proper selection of options available, use the regulator in either low- or high-pressure applications. Units reliably operate over a temperature range of -20° to +150°F.
The bubble-tight shut-off feature makes the P133 ideal in residential and light industrial heaters and industrial burners to reliably supply gas to furnaces, burners, light industrial heaters, and other appliances. No seat-to-seat adjustment is required.
The P143 pressure regulator is a variation of the P133. It has an internal relief device and is available in low pressure cut off. Learn More >
Features & Benefits
Features
Suitable for monitoring
Balanced supply valve
A wide pressure range offering
Model - P133
Use - Direct Operated |14" Diaphragm | Industrial Commercial
Max Inlet - 60 psi
Outlet Range - 2" WC to 10 psi |10 ranges
Max Outlet Flow - 170,000 SCFH | Cv 51.40
Port Sizes Inches NPT - 2 | Flanged
Flow Ratings at wide-open flow/methane
Regulator Cross Reference
The BelGAS P133L, P133H, and P133K are similar to the Itron RB1700 and RB4000, Fisher 133, 133HP and 166 (obsolete), and Honeywell 3000, and Sensus 121-12 and 121-8HP.
Applications
Applications
Industrial and commercial gas regulation
Compressors
Gas engines
Natural gas and propane gas regulation