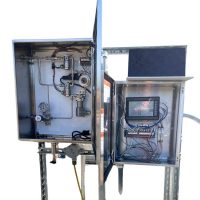 GPL 5000 Natural Gas and Propane Odorization

The GPL 5000 is an advanced odorizer ideal for natural gas and propane odorization, particularly in high-flow stations at low pressures. The odorizer utilizes proprietary patented technology and has high rangeability (512:1), delivering extraordinary high and low flow accuracy.
Odorization for Up to High Flow at Low Pressure
Similar to the GPL 750, the 5000 uses differential pressure to drive the odorizer, not gas, thereby saving pipeline gas. Also, the odorizer has odor-free operation and maintenance, and a sealed-loop system means the unit is emission-free, never discharging gas or odorant into the atmosphere.
The GPL 5000 can odorize biogas or biomethane also. It's appropriate for municipalities, small city gate stations, and large stations if at low pressure.
Batch Odorant Injection for Pipelines:
1 to 400 PSI (1-27.6 Bar) Standard
No Flow to 512.8 MMSCFD*
(*injection rate of 0.5 lb./MMSCFH)
Features & Benefits
An industry-leading PLC has a large intuitive touchscreen making controlling and monitoring the system simple. The system interfaces with Modbus (SCADA). Setting up audit trail reports for company programs or regulatory compliance is uncomplicated. Also, a Spanish mode is available upon request (GPL custom programming).
Real-time mobile alerts to smartphones and computers using a wireless modem make monitoring the system simple, stopping minor issues from becoming big problems and speeding up restoration time.
GPL 5000 Features
Precision odorant injection relative to flow

High rangeability
Actuated by DP (not pipeline gas)
Sealed loop design — eco-friendly and no odor operation
Industry-leading controller
PLC interfaces with Modbus
Wireless modem for real-time alerts
CL I Div 2 standard (CID1 optional)
Only two moving parts
Easy-to-use software included
Design Configuration
Odorizer only
With tank

60 Gallon
120 Gallon
250 Gallon
500 Gallon
1000 Gallon

Turnkey odorization packages (containment skid)
Skid extension (for additional equipment)
Mobile (can be moved)
Specifications
Specifications
0-512.8 MMSCFD
Up to 400 psi
High turndown ratio 512:1 (high rangeability)
Class I Div. 2 (Class I Div. 1 optional)
Options
Options
Cl I Div 1 hazardous classification
Catalytic Heater
Solar panel
Mobility
Upgrades to Systems