GPL 750 Mobile Odorization Skids
GPL 750 Mobile Odorization skids have served in permanent, temporary, and pickling applications. The new skid extension add-on permits the user to integrate more instrumentation to expand the system's capabilities while maintaining its mobility when needed.
Mobile Turnkey Odorant Injection Skid
The all-inclusive GPL 750 Mobile Odorization skids are turnkey permanent odorization systems designed for easy installation and mobility. Its slim design, with a vertical tank orientation, provides a minimal footprint enabling efficient use of the area. Their built-in metal pallet permits a forklift or pallet jack to transfer the entire system quickly and easily.
Permanent vs. Temporary Odorization
While initially designed to be a permanent system, many companies use the GPL 750 Mobile Odorization skids for temporary odorization and pickling units because of their integral movability. Whether a permanent or temporary use, the user can move the unit to another application if needed.
If the user truly wants a temporary system, they will find more portability in the GPL 750 Portable Odorizer (as opposed to mobile skid).
Odorization Skid Design
The design features a galvanized tin roof that protects the unit from the sun and minimizes rain or snow in the containment system. The system offers easy access to the power supply, electrical enclosure, mechanical cabinet, and odorizer injection panel. The user can remove the top when replacing the odorant tank.
The turnkey system includes the GPL 750 odorizer with an industry-leading controller (now available in a custom Spanish mode for Spanish-speaking users), Class I Div 2 or Class I Div 1 electronics enclosure hazardous classification, a 60 or 120-gallon ASME odorant tank, and containment, all on a built-in aluminum pallet. It also includes an injection panel, GPL 100 Flow Meter (though not pictured), and pipeline tap assembly kit (which contains a sonic muffler, dielectric fitting, blow-down valve, and pipeline shut-off valve).
The new skid extension permits adding other equipment.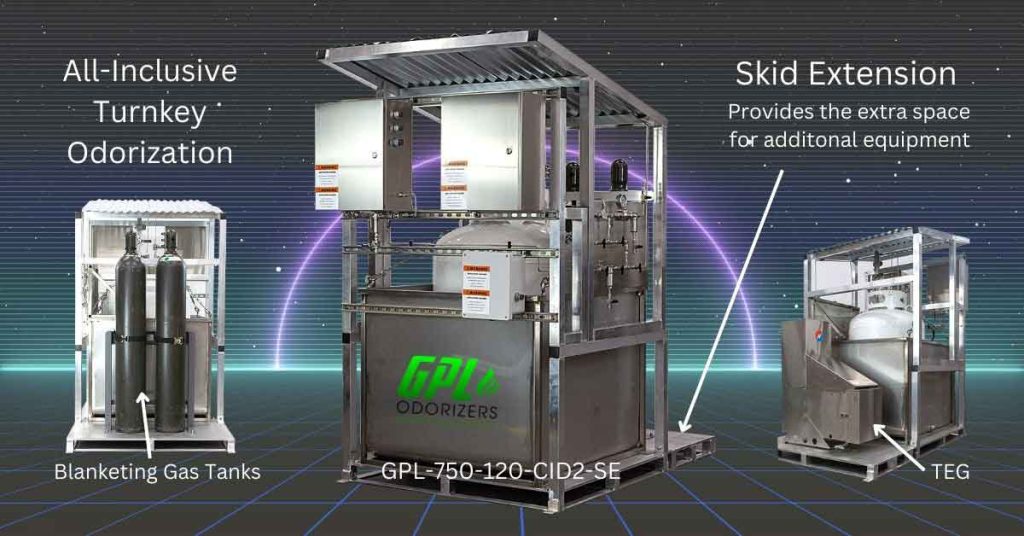 Add TEG (Remote Power) or Blanket Gas Tanks
The new skid extension allows the user to easily integrate other instrumentation or equipment, such as blanket gas tanks, TEG (thermoelectric generator) for off-grid power in remote places, or other instruments the user wants to incorporate into their system.
This skid extension is available for existing GPL 750 Mobile Odorization skids as well as new systems.
In this video, Adrian Stang walks you through a GPL mobile system and shows the skid extension.
Installation is straightforward:
Set the mobile unit on a level pad (supplied by the end user).
Bolt down the rig (bolt holes built into the base).
Fill the odorant tank.
Connect the GPL 750 odorizer from the drip chamber to the pipeline using the pipeline tap assembly kit.
Connect the GPL 100 flow meter to the pipeline.
Connect blanket gas to the injection panel.
Turn on the power.
Follow simple start-up instructions provided by GPL Odorizers.