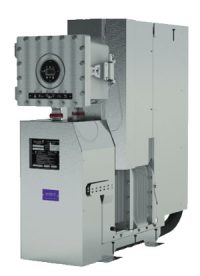 Thermoelectric Generators (TEG)

Global Power Technologies is the largest manufacturer of the TEG thermoelectric generator, which provides an output ranging from 5 to 550 watts. These generators are ideal for supplying off-grid power to remote applications in environmentally challenging locations requiring up to 5,000 watts.
Global Power Technologies TEG
The Global Power Technologies thermoelectric generators have no moving parts, making them ideal for any long-term unattended operations at remote locations. The TEGs are a reliable, low-maintenance source of DC electrical power for any application where regular utilities are unavailable or unreliable. The company manufactures many models to meet any condition, including hazardous areas.
Features & Benefits
Remote and Environmentally Challenging Conditions
Critical Pipeline Applications

Desert heat to ~130°F
Extreme cold to ~-40°F
Dense jungles
Ocean and offshore
Adverse weather
Forestry

Valve operation
SCADA
Instrumentation
Cathodic protection
Leak detection
Advantages of Global Power Technologies Thermoelectric Generators
Highly Reliable – The solid-state design (no moving parts) ensures trouble-free operation and a consistently reliable power supply system.
Low Maintenance – Recommended 1 to 2 hours per year for pro-active maintenance.
Competitively Priced - Competitive capital and operating costs and lower cost of ownership versus Photovoltaic PV/Solar
Long Life – A single sealed thermopile has a 20-year design life with 0.2% degradation each year, while the generator field experience is over 20 years.
Continuous Operation In All Conditions – The operation is not affected by weather, dust, or other airborne contaminants.
Smooth Operation - Single burner with a 20-year design life is easy to operate and stable in all-weather situations.
Reduced System Size – The environmentally favorable physical layout of Global Power Technologies generator systems is generally smaller than solar or other generator options.
Increased Security - Global Power Technologies TEG installations are typically low visibility and can be mounted inside security shelters if needed.
Reduced Battery Requirements - Due to the continuous operation
Extended Battery Life - Due to reduced deep cycling
Quality - Produced to ISO 9001 requirements
Specifications
Flyers for Thermoelectric Generator TEG Models