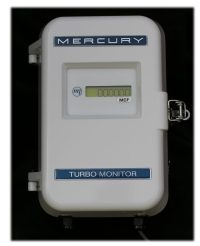 Turbo Monitor

The Honeywell Mercury Turbo Monitor (TOM) is an electronic device designed to receive inputs from the Invensys Auto-Adjust turbine meter to calculate the adjusted volume.
Monitor (TOM)
The Honeywell Mercury TOM is an electronic device designed to receive inputs from the main and sense rotors of the Invensys Auto-Adjust Turbo-Meter (AAT) (turbine meter). The TOM uses these inputs to calculate the adjusted volume, unadjusted volume, and percent deviation from factory calibration.
Features & Benefits
Turbo Monitor
The TOM will display the totalized adjusted volume on the LCD, and output adjusted volume pulses. There is a pushbutton on the Turbo Monitor used to display Live Main and Sense Rotor Frequencies, Live Delta A and Live Adjusted Flow Rate as well as other configurable items. The TOM can also output the main and sense rotor pulse signals, as well as, a 4-to-20 milliamp output that can be configured to either Adjusted Volume Flow Rate or Instantaneous.
The TOM requires power from a DC power supply. The standard Mini-AT battery pack is used as a battery backup for the DC supply. Power supplies and barriers for hazardous locations (Class 1, Divisions 1 & 2) are also available. MasterLink32 software is the primary interface to the Turbo Monitor. MasterLink32 provides the means to configure and download data. Live graphing of both rotor frequencies, Delta A and Adjusted Flow Rate are also provided.