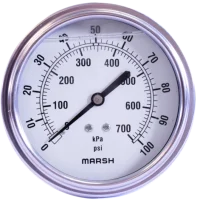 Marsh Gauges and Thermometers

Marsh Instruments manufactures Marsh gauges and thermometers. The company is a leading manufacturer of the highest-quality pressure gauges, thermometers, and accessories. Process industries worldwide trust Marsh Belfram for their accuracy and reliability.
Marsh Instruments Pressure Gauges
The high-quality pressure gauges are excellent for applications demanding precision, dependability, and adaptability to harsh environments. There is a wide variety of gauge types and thermometers for pressures ranging from vacuum to 20,000 PSI. The gauges typically have copper alloy, 316 stainless steel, or Monel internals and dial sizes from 1" through 10" and serve pneumatic applications to demanding industrial processes.
Features & Benefits
Marsh Instruments Gauge Lines
The five primary Marsh Bellofram lines include:
General Service Gauges
Marsh Instruments General Service gauges offer high repeatability pressure measurement across various OEM, commercial and industrial applications, including pumps, machinery, and related systems, steam boilers or other pressurized vessels, compressors, chemical processing, oil, gas, and petrochemical systems, oil and gas pipeline monitoring, power plant equipment, and pulp and paper mills.
Severe Service Gauges
Marsh Instruments Severe Service liquid-filled gauges provide reliable pressure measurements in harsh and demanding environments, mainly where pulsation and vibration are a concern. Marsh Severe Service gauges are filled with liquid to offer a dampening effect, reduce pointer flutter and lubricate the internals.
Low-Pressure Gauges
Low-Pressure gauges from Marsh Instruments incorporate a diaphragm element allowing for accurate low-pressure readings in support of various applications, with ASME Grade A 2-1/2% accuracy for ranges above 30" of water. Available ranges include vacuum and pressure in inches of water, ounces per square inch, kilopascals, and millimeters of mercury.
Safecase Process Gauges
Marsh Instruments has 155+ years of experience and an extensive list of designs and options, which make the Marsh process gauges the intelligent and practical choice in process instrumentation. All case styles feature Safecase solid front construction.
Bimetal Thermometers
Marsh Instruments offers thermometers in a variety of configurations for any application. Their bimetal thermometers feature heavy-duty stainless steel construction for industrial and commercial applications.
Industries Served
Industries Served
Chemical/Petrochemical
Marsh Instruments Safecase gauges and diaphragm seals are available in various configurations to meet the needs of chemical plants and refineries.
Oil & Gas
Marsh Instruments manufactures rugged, heavy-duty instruments to withstand the rigors of the oilfield and offshore applications.
Power Generation
Marsh Instruments manufactures various instruments for gas, coal-fired, hydroelectric, or nuclear power generation facilities.
Water and Wastewater
Marsh gauges and diaphragm seals have been a standard in water treatment and wastewater facilities for over 155 years.