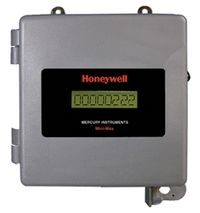 Electronic Data Recorders ERX

Honeywell ERX is a microprocessor-based, standalone, electronic data recorder that measures the pressure(s), temperature, case temperature, and power.
Electronic Data Recorder
Honeywell Mercury Instruments ERX is a microprocessor-based, standalone, self-powered data recorder that measures gas pressure(s), gas temperature, case temperature, and applied power supplies. Sampled measurements, logged audit trail data, alarms, and operating parameters are stored in non-volatile memory and may be retrieved directly with a desktop or laptop computer, Palm Pilot, Pocket PC, or remotely via modem. Calibrating and serial accessing an ERX Recorder is accomplished by using Mercury Instruments' MasterLink32 version 3.50 or greater, Palm Suite, or Pocket PC software.
MiWi ERX 350
Honeywell manufactures MiWi 350 platform assemblies to integrate wireless data communication for the ERX 350. Read more about the MiWireless 350 platform.
Features & Benefits
Electronic Data Recorder
Pressure, temperature, alarms, and other sampled parameters may be displayed when retrofitted with an optional internal or external Alpha-Numeric LCD (Liquid Crystal Display).
ERX Recorder is capable of sampling and recording up to three pressure transducers and ambient and gas temperatures. The ERX may be fabricated as a wall-mount, pipe stand, or as a portable unit in an 800 series case (three pressure default case), ERX Recorder (single pressure) or a Mini-AT (dual pressure) case.
MasterLink32 is a Windows multifunctional software program that is used to interface with an ERX Recorder via a serial cable, modem, or Bluetooth device.