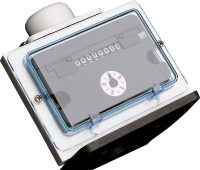 Pulse Transmitter 212

Honeywell Mercury 212 Pulse Transmitter transmits uncorrected volume to a remote location for the turbine, rotary, and diaphragm gas meters.
Pulse Transmitter 212
Honeywell Mercury Instruments Model 212 Pulse Transmitter is designed for use with the turbine, rotary and diaphragm gas meters equipped with an instrument-mounting facility. It can provide single- or multiple-pulse outputs for each meter wriggler rotation utilizing a magnetically operated reed switch. An uncorrected index is provided in the housing.
Features & Benefits
Pulse Transmitter 212
The Model 212 is self-contained and can be used by itself on the meter. It also can be used in conjunction with a chart recorder or corrector, in place of the standard mounting bracket. A reversing gear mechanism permits mounting on either a clockwise or counter-clockwise rotating instrument drive. Torque load on the meter is less than 0.5 inch ounces. Stand mounting bolts and hardware adapt the Model 212 to the meter.