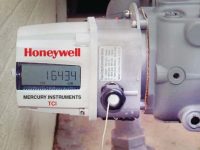 Electronic Temperature Compensation TCI

The Honeywell TCI is the most advanced electronic temperature compensating index available for rotary meters.
TCI Electronic Temperature Compensation
The Honeywell Mercury Instruments TCI is the most advanced electronic temperature compensating index available for natural gas rotary meters.
Features & Benefits
TCI Electronic Temperature Compensation
The Mercury Instruments TCI™ is an advanced electronic temperature compensating index for natural gas rotary meters. The device is easy to use and self-contained. The TCI is an electronic gas meter display and interface that compensates for the real-time thermal characteristics of a volume of constant pressure gas.
The TCI is an electronic replacement for the mechanical TC index and is designed to mount on most popular rotary gas meters, including Dresser LMMA or B3, Romet, and AMCO. Mercury rotary pulse sensors and an electronic temperature sensor are included with the TCI.
Total temperature-compensated gas volume is always displayed on the LCD, which is visible even at unusually cold temperatures. Also, the LCD allows for normal viewing without physically rotating the display. This is beneficial in applications that require the instrument to be rotated. The TCI is powered by a single lithium battery pack (2 D cells), which has 20 years of useful life under standard operating service, and then, of course, they'll need to be replaced. It is also recommended that the units be calibrated on a 20-year cycle, making it proficient for battery replacements and calibrations.
Several items relating to gas measurement parameters are stored in the TCI. Additionally, alarms and hardware/software details are also available. Items are data parameters that are identified by unique numbers and useful names such as Compensated Volume and Gas Temperature. Every item has an assigned default value, and almost all are user-configurable.
Serial communications with the TCI are handled through an IrDA data port, an advanced infra-red interface that is electrically isolated and provides helpful error checking. The physical connection to the TCI is accomplished by sliding a USB to IrDA Dongle with a distinctive rubber boot on to the side of the TCI. For most applications, the IrDA Dongle is connected to a USB extension cable and then connected to the laptop, making a reliable isolated connection.
The TCI has a wide range of configurable Items making it extremely adaptable to fit most rotary applications. Field configurations of the TCI will usually require using Mercury MasterLink32 software.
Specifications
TCI Electronic Temperature Compensation
Redundant meter volume input sensors
Durable, UV resistant, clear polycarbonate enclosure
Potted electronics to safeguard against moisture/water ingress
Immersion tested to 1 meter underwater for 72 hours (No AMR connections)
Large 8-character alphanumeric LCD with Icons (always on)
Configurable Meter Reader list for displaying up to 12 Item values
Historical data record - stores 90 days of compensated and uncompensated volume totals along with three additional Item values
Two Form-A (normally open) outputs for Volume
One Form-B (normally closed) output for an Alarm signal
Field programmable firmware updates
Total accuracy: +/- 0.25 %
Ambient temperature -40 to +160 F (-40 to +71 C)
Certifications
IEC 61000-4-2 testing (Electrostatic discharge)
IEC 61000-4-3 testing (Electromagnetic fields)
Measurement Canada
CSA --- Class 1, Div 1 & Div 2, Group D certifications
FCC Part 15
Electronic Temperature Compensating Index, https://www.honeywellprocess.com/en-US/explore/products/gas-measurement-and-regu (Accessed February 12, 2014).