Mobile Turnkey Odorant Injection System by GPL Odorizers
GPL Odorizers initially designed the GPL 750 Mobile Odorization System as a permanent turnkey natural gas odorant injection unit. The system has become a useful model for temporary odorization and pickling applications because of its mobility. However, if more portability is required, you would be interested in reviewing the GPL 750 Portable Odorizer.
Mobile Turnkey Odorant Injection Skid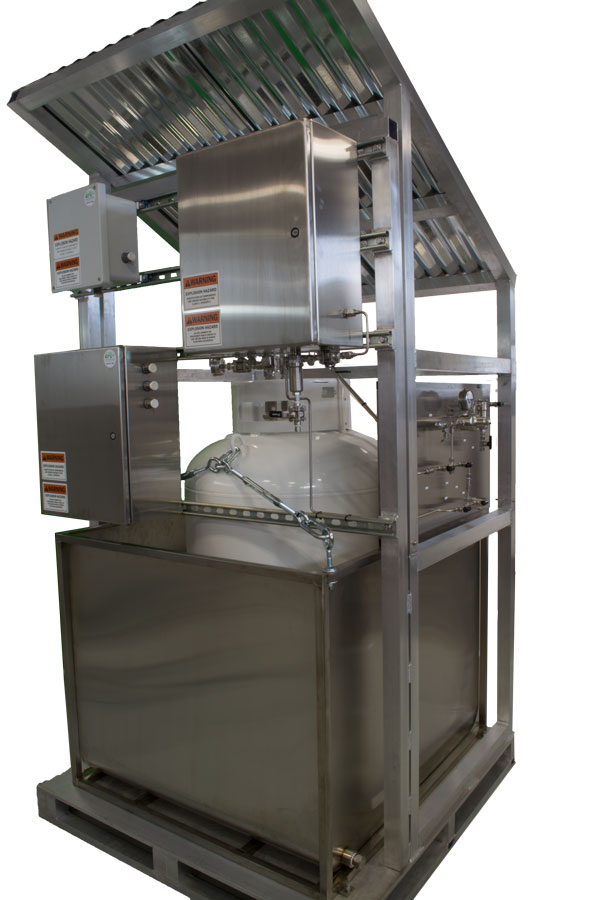 The GPL-750-V-120-P is a mobile odorant injection system designed for ease of installation as well as mobility. The built-in metal pallet permits a forklift or pallet jack to transfer the entire system quickly. This design is not a temporary system. However, its built-in movability allows the user to move the unit to another application if so needed. Its slim design, with a vertical tank orientation, provides a minimal footprint enabling efficient use of the area.
Additionally, the design features a galvanized tin roof that protects the unit from the sun and minimizes rain or snow in the containment system. The user can remove the top when replacing the odorant tank. The system offers easy access to the power supply, electrical enclosure, mechanical cabinet, and odorizer injection panel.
This turnkey system includes the GPL 750 odorizer, Horner controller, a 120-gallon ASME odorant tank, and containment skid, all on a built-in aluminum pallet. It also includes (though not pictured) the GPL 100 Flow Meter and pipeline tap assembly kit (which contains a sonic muffler, dielectric fitting, blow-down valve, and pipeline shut-off valve).
Installation is straightforward:
Set the mobile unit on a level pad (supplied by the end-user).
Bolt down the rig (bolt holes built into the base).
Fill the odorant tank.
Connect the GPL 750 odorizer from the drip chamber to the pipeline using the pipeline tap assembly kit.
Connect the GPL 100 flow meter to the pipeline.
Connect blanket gas to the injection panel.
Turn on the power.
Follow simple start-up instructions provided by GPL Odorizers.
Download the GPL-750-V-120-P flyer.
GPL Custom Odorization Solutions
GPL Odorizers understands that not all odorization applications can use a cookie-cutter odorant injection system and designs and produces custom solutions to satisfy the user's needs.
If you have an odorant injection challenge and would like a quote on a GPL Odorizers standard or custom unit, inquire now.
Image by 🎄Merry Christmas 🎄 from Pixabay