Safety Shut-Off Valve by Honeywell | New Product
We are happy to announce that we are now an authorized representative and distributor of the Honeywell Gortor HSV086 safety shut-off valve for use in gas transmission, gas distribution and industrial gas pressure regulating systems.
Honeywell Gortor HSV086 Safety Shut-Off Valve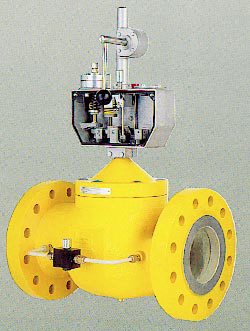 The HSV086 safety shut-off valve is ideal when an extra level of overpressure or underpressure protection is desired. This globe style design comes in two forms, the HSV086 for nominal diameters of 1″-12″ and the HSVS086, with a two-stage release mechanism for nominal diameters of greater than 16."
Both styles offer overpressure and underpressure protection and feature modular construction with a control device and sensing element. Both are appropriate for operating up to 1450 PSI. The nominal diameters up to 12″ are available in pressure classes up to ANSI 2500.
The HSV086 defends against exceeding a maximum pressure and falling below minimum pressure. The protection against under pressure also protects against a diaphragm rupture.
The Honeywell HSV086 Benefits
The Honeywell Gorter valve is precise and has high reproducibility. Low maintenance costs and lengthier maintenance intervals are associated with the safety shut off valve. The valve is easy to assemble and disassemble. The HSV086 has a modular construction, and there is a separation between the sensing element, control mechanism, and the valve body assembly. It has bubble-tight shut off even at low temperatures and offers a high degree of operational safety.
Applications the Gorter HSV086 Excels
The Honeywell Gorter HSV086 gas safety shut-off valve is ideal for virtually any place where an extra level of protection is desired to provide a shutoff of the gas flow in an over or under pressure situation. Examples of such applications are compressor stations, gas pressure reducing skids, gas storage, gas power stations, city or regional gas suppliers, and industrial facilities.
For more info information visit Honeywell HSV086. Or call us at (303) 697-6701.