2023 Honeywell Gold PMT Channel Partner
Once again, Honeywell partners with Linc Energy Systems, making the Performance Materials Technologies (PMT) Channel Partners' shortlist for best Honeywell distributors for 2023.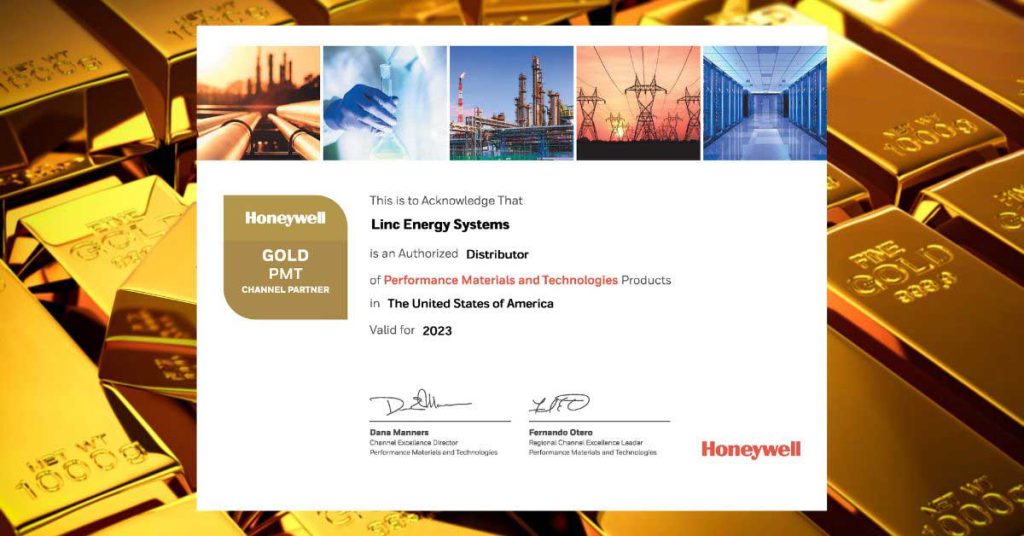 Honeywell Distributors and Gold PMT Channel Partner
We value our relationship with Honeywell, which began when Honeywell acquired Mercury Instruments, a longtime principal of Linc Energy Systems. Today our relationship includes other Honeywell products:
EnCal Gas Chromatographs
Honeywell Elster-Instromet manufactures a line of advanced gas chromatography or gas analyzers, including the EnCal 3000, EnCal 3000 Biogas, EnCal 3000 proChain, and the GasLab Q2 for when speed rather than accuracy is required.
Elster Instromet Ultrasonic Meters
The Elster Instromet Q.Sonic, Q.Sonic-plus, Q.Sonic-max, and TwinSonic-plus are multipath ultrasonic gas flowmeter lines.
Honeywell Elster Meters
The Honeywell Elster measurement and control products we sell are the Axial-Flow Valve (AFV),  Honeywell RABO rotary gas meters, and the Honeywell Elster TRZ2 and SM-RI-X turbine meters.
Mercury Instruments
Honeywell precision instruments measure and monitor gas pressure, temperature, volume, and flow for the natural gas industry.
Honeywell Process Solutions Regulators
HPS products include measurement and control devices for natural gas in gas transmission systems, gas distribution networks, and industrial and commercial gas pressure regulating systems. We represent HPS gas regulator lines, including Gorter HSV086 safety shut-off valves, Gorter R100 Series, and the Honeywell HON 5020 regulators.
Honeywell Field Transmitters
The SmartLine transmitters provide pressure, temperature, and level measurements. Honeywell Versatilis transmitters help facilities minimize equipment failure downtime. At the same time, Honeywell Versatilis Lifecycle Solution is a SaaS platform that helps users monitor field equipment's health and lifecycle to reduce operating expenses.
We are grateful for our continued association with Honeywell.