Natural Gas Measurement, Control, and Odorization Log
We provide insights into natural gas measurement, control, odorization, and various natural gas products.
"Profiles" a new Magazine for Honeywell Industrial Customers
As a distributor for Honeywell Process Solutions, I am happy to announce that Honeywell now has "Profiles," a periodic magazine devoted to serving its industrial customers.
Honeywell Industrial Products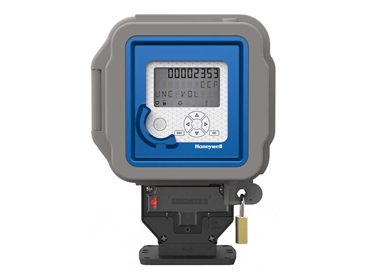 Honeywell EC 350 Gas Volume CorrectorLinc Energy Systems is the authorized distributor for Honeywell Process Solutions products, such as:
Honeywell Mercury Instruments correctors and recorders
Honeywell Gorter safety shut-off valves
Honeywell RMG 5020 regulator
Honeywell USM GT400 ultrasonic flowmeter
Honeywell Rotary Meter RABO
"Profiles" Magazine
You now have the opportunity to review and sign up for future publications. This recent issue features an article by Pierre Dufour on the EC 350 Gas Volume Corrector. Here is a teaser, and you can read the article in its entirety on page 6 of the magazine.
The EC350 and its Ecosystem
The North American natural gas industry presents complex challenges. Companies must find ways to operate more safely, make better decisions and act quicker by delivering crucial asset data from operations to enterprise more efficiently. At the same time, gas distribution companies are being mandated to control their capital expenditures and reduce operating expenses to increase profitability.
The latest evolutions in electronic volume correctors and associated tools and services enable gas distribution and transmission companies to deliver better results. With a fully integrated platform for data collection and management and remote meter monitoring, gas operators can improve the output from equipment assets, avoid unplanned downtime, implement preventive maintenance, and maximize their total return on investment (ROI). It all starts with a best in class electronic volume corrector: the EC350.
The EC350 has been designed to replace the Mini-Max, Mini-AT, and related products eventually. As such, it had to be scalable from very basic and simple volume correction applications to more demanding, custody transfer, multi-pressure, communications-enabled applications as found on transmission pipelines.
Some of the most significant advancements include:
Expanded communication options via internal cellular modems in a battery-operated device.
Advanced audit trail for better diagnostics capabilities to reduce maintenance and improve uptime.
Higher measurement accuracy through the digital plug and play pressure transducer allowing the calibration cycle and inventory to be reduced.
Extended battery life of 10 years. With long-term stability and an extended battery life, the instrument also minimizes the need for site visits and simplifies field repairs.
Versatility: One product fits the three hardware configurations – Universal Mounting Bracket (UMB), rotary and wall mount installation.
Infrared port for easy configuration.
Read more on page 6.
Signup Now
To review your magazine options to receive it regularly visit Profiles Magazine.
Blog posted from
11919 W Interstate 70 Frontage Rd N #109, Wheat Ridge, CO 80033, USA
View larger map
Trackback URL for this blog entry.