Solar Remote Power Generation Challenged by Smoky Skies
Another new challenge caused by the chain of wildfires over the western portion of the United States is that the smoky skies diminish the daylight needed for solar remote power generation units. Global Power Technologies suggests that users consider retrofitting their solar power generators with a TEG to create a TEG-solar hybrid, providing a more reliable source of off-grid power.
Smoky Skies – A New Challenge for Solar Power Generation
Smoky skies have created challenges for solar remote power generators. Global Power Technologies offers solar and thermoelectric generator hybrid units (TEG-solar) that work in tandem to provide reliable and efficient off-grid power. Whether there are smoky skies or a reduction in solar exposure because of declining hours as we go into the autumn, a TEG can quickly and easily be added to an existing solar system to restore reliability.
Off-Grid Solar vs. Solar-TEG Generator Hybrid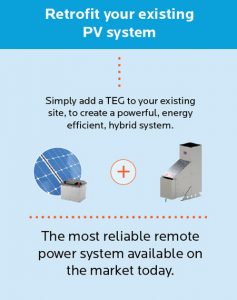 Solar-only systems face challenges with diminishing daily sunlight, extreme temperatures, seasonal shading, and debris-covered solar panels. The smoke that has diminished sunlight in parts across the country is now another challenge to add to this. When you combine solar power with a TEG, the result is the most reliable off-grid power system available on the market today.
Global Power Technologies manufactures complete solar-TEG generator systems and retrofits existing systems to add TEG to a solar unit or add solar to a TEG unit. In either case, the retrofitted array enjoys the benefits of a TEG-solar hybrid unit.
Global Power Technologies Solar-TEG Hybrid systems provide power where you need it.
Most reliable off-grid remote power solution available
Lowest operating cost
Commercially available fuel vs. imported specialty fuels
Low emissions
Optimizes and extends battery life
Minimum annual maintenance
See other Global Power Technologies solutions or Download the product sheet.