What is SCADA? Applications in the Oil and Gas Industry
This article intends to address the basics of SCADA and its applications in the oil and gas industry and to educate on some of the field equipment and instrumentation that supports industrial control systems.
What is a SCADA system?
SCADA (Supervisory control and data acquisition) is a control system complex that uses computers, communication networks, and a computing platform for real-time process management. The SCADA system relies upon other peripheral devices, such as a PLC and PID controllers to interface with the process plant or machinery to regulate flow, pressure, temperature, and other industrial process variables. SCADA is an industrial control system (ICS).
What is the purpose of an industrial control system?
Data Acquisition
Data Communication
Information or Data Presentation
Monitoring or Control
By monitoring real-time information, SCADA shows how process equipment is performing. Sensors on equipment send the info through RTUs (remote terminal units) and PLCs. By doing so, a SCADA system can pinpoint anomalies in a process, by comparing real-time data against the data collected, creating alarms to alert the operator to control by taking action to address an issue, permitting maintenance personnel to make more informed and efficient decisions. The data acquired can easily be presented in reports and documentation.
Applications and Functions
SCADA systems are used in various industries, particularly in manufacturing, building/facility environment automation, mass transportation, traffic signals, electric power generation, water distribution, and of course, in the transmission and distribution of natural gas.
Applications
Oil and gas gathering, transmission and distribution
Tank farm monitoring
Renewable resource research
Asset management
Advanced protocol conversion
Downhole sub-pump monitoring
Meter Stations
Compressor Stations
Valve Stations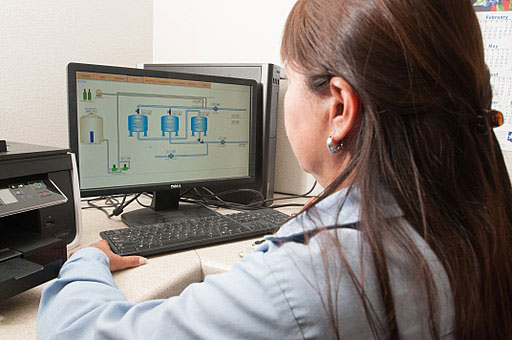 Functions
Control, monitoring, and remote measurement
Asset optimization with greater visibility
Enhance safety through streamlining process information
Gather, process and record real-time data
Connect employees and equipment through human-machine interface (HMI) software
Field Equipment and Instrumentation
Linc Energy Systems does not sell SCADA systems; we do, however, sell many field devices that interface with SCADA systems. Examples of such products include odorant injection systems, valve lubrication systems, gas flow measurement, and control equipment, transmitters, electronic gas volume correction, industrial thermoelectric generators, and even equipment such as fiberglass enclosures and buildings, to protect such material.
If we can assist you with any of our products, please message us above.
Image credit- U.S. Department of Agriculture, Freer Water Control and Improvement District – Diana Adame, CC BY 2.0