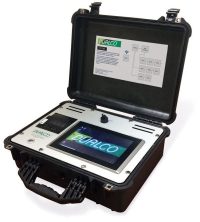 Dualco SCADA 12100 (S.O.L.U.)

The Dualco SCADA-Operated Lubrication Unit (S.O.L.U.) is a portable digital interface designed for remote operation to maintain proper lube levels in all lubricated valves. The S.O.L.U. is the solution for accurate, real-time documentation on valve lubrication, and can be operated from a car, truck, or trailer.
Dualco SCADA Operated Valve Lubrication
Given that 54% of valve failures are related to improper or inadequate lubrication, the Dualco SCADA 12100 (S.O.L.U.) is positioned to assist in improved maintenance and operations of valves.
Features & Benefits
Features
Accurate real-time volume report
Records and displays wellbore pressures during well maintenance
Runs automatically and shuts down after completing the valve(s) or tree assembly lubrication sequence when the void or valve cavity is full of lube/sealant
One person operation
Several (8-10) touch-screen panels for multiple valve settings
Small hard-shell carrying case (stationary or portable)
External ports for various accessories (e.g., built-in printer)
Wi-fi or blue-tooth connectivity for tablets and smartphones
Lubrication app for tablets and smartphones
Rechargeable battery with AC/DC power supply capacities
Programmable to adapt many valve sizes and working pressures
Controllable and viewable via remote satellite
Scanner capable - RFID and UPC
Benefits
Reduce
Labor
Waste
Inefficiency
Downtime
Environmental Impact
Rugged Waterproof Case
Increase
Valve Life
Reliability
Safety
Productivity
Profits
Applications
Dualco S.O.L.U. Applications
Wellheads
Pipelines
Offshore
Manifolds
Fracturing
Industrial