Fiberglass Buildings and Shelters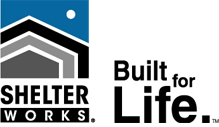 Shelter Works fiberglass buildings are fully customizable to meet the needs of protecting oil and natural gas utility equipment.
Maintenance-Free, Insulated Fiberglass Shelters that do not Corrode, Rot, Rust, or Decay!
The fiberglass shelters are insulated, maintenance-free, corrosion-resistant, and do not rust, rot, or decay. They are used in various applications within the industry, such as:
Natural Gas Storage
Wellheads
City Gate Gas Stations
Natural Gas Distribution & Transmission
Instrumentation/SCADA Systems
Pressure Regulating Stations
Meter Stations
Gas Odorizer Buildings
Power Generation Equipment
The company offers a 25-year warranty on its fiberglass buildings and uses an exclusive process to produce a more rigid and durable product with its FiberBeam technology. This procedure is a proprietary lamination process that melds the inner and outer skins with integrated fiberglass I-beams. These I-beams are placed 12″ apart throughout the enclosure's walls, doors, and roofs to deliver a building equally as strong as one made of steel. The net result is that the fiberglass building can now withstand higher stresses without bowing or buckling.
Features & Benefits
| | |
| --- | --- |
| Features | Benefits |
| Maintenance-free Design | A low lifetime cost of ownership |
| 50+-year Lifespan with 25-year  Limited Warranty | Good business sense |
| Lightweight design | Save money on freight and crane expenses |
| Corrosion-resistant | Does not corrode, rot, rust, or decay |
| Impact-resistant | Absorbs impact which reduces/eliminates damage |
| Energy Efficient | Lowers energy costs |
| UV Resistant | Minimal fading and chalking on outside surfaces |
| Exclusive FiberBeam™ Construction | Super strong. In pound for pound comparison much stronger than steel! |
| Easy to Install | Save on construction and labor expenses |
| Non-Conductive | Lowers grounding requirements |
| Field Erectable | Build on-site even in hard-to-reach locations |
| Custom, Flexible Designs | 4'-16' wide up to 40' long |
Options
Options Available
Custom Sizes & Colors
Insulation Value up to R-21
Skids, Bases & Floors
Containment Floors
Molded Openings
Partition Walls & Knock Outs
Sound Attenuation
Mounting Reinforcements
Single, Double, Sliding, or Roll-Up Doors
Awnings
Panic, 2-points or 3-point Door Hardware
Electrical Packages
Lighting
Vents, Windows & Skylights
HVAC Packages
Miscellaneous
Why Choose a Fiberglass Shelter?
Fiberglass shelters are long-lasting, require less maintenance than alternatives and can easily be repaired, delivering a high-value product and low cost of ownership.
Shelter Work enclosures are tested and perform well in any environment through varying weather conditions, including extreme temperatures, hurricanes, heavy snow loads, wet climates and corrosive environments.
The fiberglass shelters do not rust, rot, corrode or decay delivering an aesthetically appealing structure that is maintenance-free.
Shelter Works buildings are usually installed in less than one day with minimal labor using typical construction equipment and tools.
The fiberglass building is resilient and resists damages from impact, chemicals, water, and UV rays.
The Shelter Works enclosures are pound for pound stronger than steel and can be designed to meet any strength requirement.
Fiberglass building composite material is super light though it has the highest strength to weight ratio.