Natural gas filters, strainers, scrubbers for instruments
Natural gas contains impurities. Foreign material such as loose scale, rust, weld beads, grit, or other contaminants may damage expensive downstream equipment. For this reason, natural gas filters, strainers, scrubbers, and natural gas dryers become an inexpensive and effective way to prevent equipment damage and failures.
Linc Energy Systems is pleased to announce that one of our principals, IMAC Systems, released new gas filtration products.
Eliminator Pilot Filter
The IMAC Eliminator Series is a particulate and coalescing filter. The end-user can use it as a pilot filter, chemical injection filter, sample protection filter, gas analyzer filter, catalytic heater filter, or instrument filter. This air and natural gas filter performs at high pressure (MOP of 5000 PSIG) with a 316L stainless steel filter assembly.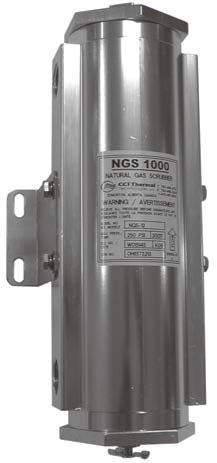 The NGS1000 Natural Gas Scrubber is for industrial applications.
High-Pressure Instrument Filter Dryers
IMAC Instrument Filter Dryer, a desiccant dryer, provides cost-effective filtration to supply gas for high-pressure control instrumentation, such as pneumatic controllers, catalytic heaters, enclosure systems, and other instruments. The removal of contaminants helps eliminate costly downtime and increases the performance life of the equipment it protects. The IMAC natural gas dryer removes particles, moisture, H2S, odorant, and other impurities down to 3 microns. The IMAC desiccant dryers are available in various assemblies to accommodate the applications; pressure cuts (regulators), gas conditioning (catalytic heaters), automatic filter switching, and drain valve. The units are easy to install, provide trouble-free maintenance and maximum scrubbing. Removing unwanted contaminants helps eliminate costly downtime and increase performance and longevity for equipment downstream.
Low-Pressure Instrument Dryers
IMAC Systems offers two low-pressure instrument dryers, the Flo-Dri Filtration and Natural Gas Scrubbing systems.
Flo-Dri gas scrubbers are for gas conditioning appliances, such as instruments and catalytic heaters. The filter systems remove aerosols, contaminants, H2S, moisture, oil, and solids, eliminating costly downtime associated with catalytic heater failure. The patented design is engineered for long life, low maintenance, and easy cartridge change-outs. The units remove particles down to 0.5-micron and have various sizes to accommodate flow rates from 1-150 SCFM and perform up to a working pressure of 250 PSIG.
NGS 1000 natural gas scrubbers are for gas-fueled catalytic heaters (and other fueled appliances) in industrial applications. The NGS 1000 features a desiccant-based scrubber cartridge that is easily installed and maintained. The unit removes particulates down to 0.5-micron and has two sizes for applications having flow rates of 10-25 SCFM and a working pressure of 250PSIG.
IMAC filter dryers are appropriate to protect gas supply to:
Pneumatic Controls
Regulation Skids / Stations
Pigging Stations
Moisture Analyzer Cabinets
Line Heaters
Valve Actuators
Dumps
Measurement Skids / Stations
Thermo-Electric Generators (TEGs)
Automated Drips
Methanol Injection Systems
Natural Gas Strainers
In addition to gas filters, inline strainers are an inexpensive way to remove harmful debris from natural gas to protect equipment. Various styles and sizes are available, including T strainers, gasket strainers, and temporary strainers (witches hat strainer, cone strainer, plate strainer, and basket strainer)
If you'd like more information on using the IMAC filtration equipment, call us at 303-697-6701 or email info@lincenergysystems.com. Or, if you'd like to learn more about our new catalytic heaters, visit What is a catalytic heater and how does it work?