Maxitrol Regulator 325 Appliance Regulators
I am happy to share that Linc Energy Systems is a distributor for the Maxitrol Regulator. The company manufactures line pressure appliance regulators for residential, commercial, and industrial applications.
Maxitrol 325 L Regulator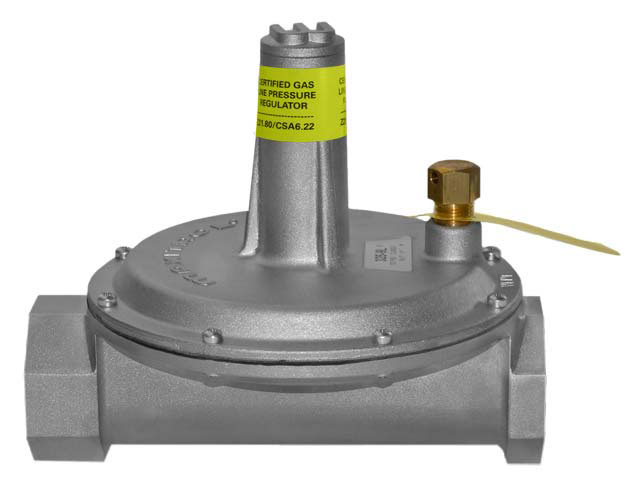 The Maxitrol 325 L-Series regulator has a lever acting design and is suitable for 2 and 5 PSI pipeline systems. When local building code permits a 5 PSI system, the International Fuel Gas Code stipulates that overpressure protection is required. Maxitrol provides the 325 L-Series with overpressure protection devices (OPDs).
Natural gas fuels appliances such as stoves, fireplaces, water heaters, and furnaces. Usually, the gas is distributed in lines at 2-5 PSI using corrugated stainless steel tubing (CSST) or copper tubing. The *325 L-Series line pressure regulator reduces the pressure to the rated inlet pressure range of the gas appliance. One 325 appliance regulator is needed for each device. Most installations require the regulator at or near the appliance, which is usually deep within the home or building and would need vent piping from the location of the appliance. This can be much work, expensive, and unsightly.
*Maxitrol L-Series: 325-3L (3/8″, 1/2″): 250,000 Btu/h; 325-5L (1/2″): 500,000 Btu/h; 325-5L (3/4″, 1″): 600,000 Btu/h; 325-7AL (1 1/4″, 1 1/2″): 1,250,000 Btu/h; 325-9L (1 1/2″, 2″): 2,250,000 Btu/h; 325-11L: 4,450,000 Btu/h
Vent Limiters
A vent limiting device eliminates the need to run expensive vent piping from the appliance location to the exterior of the building. Maxitrol's vent limiting device, vLimiter®, can be added to the L-Series gas regulator. The vent limiters are for indoor use in spaces where it becomes critical to limit the amount of gas escapement if the regulator diaphragm fails. The Maxitrol vent limiters should not be used outside exposed to the environment due to the possibility of getting moisture into the outlet of the vent limiter.
When using a vent limiter with the 325, the regulator must be installed in a horizontal upright position. Otherwise, the ball check may roll into the limiting position, and the regulator will experience high lock up and not operate correctly.
Both the Maxitrol 325 L Series regulator and the vLimiter are tested and approved to Z21.80/CSA 6.22.
Over Pressure Protection
If your gas line pressure to an appliance exceeds the appliance's MAOP, you may be interested in our post on Venting Gas Regulators and Overpressure Protection Devices for Appliances.
Visit Maxitrol 325 L Natural Gas Regulator to learn more about this regulator or simply request a quote.