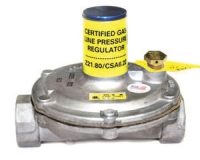 Maxitrol 325-L Series

The Maxitrol 325 L Series regulator is a line of lever-acting line pressure regulators certified for 2-PSI gas lines and suitable for natural gas, manufactured gas, mixed gases, liquefied petroleum gases, and LP gas-air mixtures.
Maxitrol 325 Line Pressure Regulators
Maxitrol 325-L Series line-pressure regulators are for use on residential, commercial, and industrial applications, and certified for 2-PSI lines with outlet pressure ranging 7 to 11 inches WC. The regulators deliver positive dead-end lockup capable of precise control from full-flow down to pilot-flow. In 2-PSI systems, a factory-assembled overpressure protection device (OPD)] is required, in addition to appliance regulator(s) (RV Series or 210 with vLimiter) on any line appliances.
Features & Benefits
325 L Series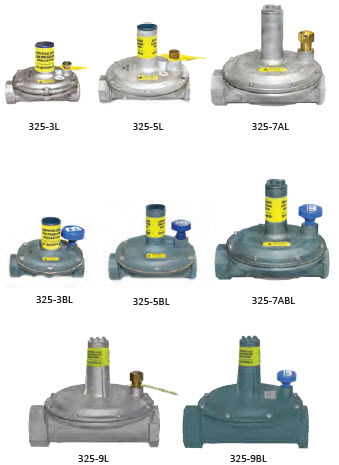 With the adoption of the current ANSI line pressure regulator standard (ANSI Z21.80/CSA 6.22), appliance regulators should not be used as line regulators. Note that if there is no "L" in the Maxitrol model name, it is not a line pressure regulator - it is an appliance-only regulator. Additionally, Maxitrol attaches a yellow sticker on their certified gas line pressure regulators, as well as a yellow tag on their certified vent limiting devices (vLimiter).
The L-models are for 2-psi pipe systems using corrugated stainless steel, copper tubing (semirigid), or iron pipe (steel/black). The regulators reduce the gas pressure to a level within the appliance or equipment's operating range. The user must install the regulator upstream of appliances that already have an appliance regulator.
Maxitrol also manufactures B Models (Imblue Technology®) to provide additional corrosion resistance and extra protection for outdoor regulators.
Maxitrol's 325-L Series regulators are certified ANSI Z21.80/CSA 6.22.
Also available in 325-11L in for pipe size 2", 2 1/2" and 3" with 3/4" NPT .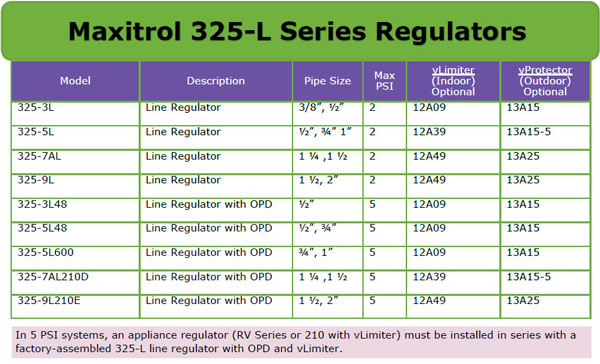 Specifications
Downloads
Maxitrol Regulator Picks
Natural Gas Line Pressure Regulator Guidebook – 7th Edition
325L-Series-2PSI-Datasheet
Specifications
Pipe Sizes - 3/8" to 2" threaded connections with NPT or ISO7-1 threads
Optional - 1/8" NPT outlet pressure taps on 325-7, 325-9, and 325-11
Housing Material - aluminum.
Rated Inlet Pressure - 2 psi (13.8 kPa)
Maxitrol Rated - 10 psi (69 kPa)
Minimum Inlet Pressure - 1 psi (6.9 kPa)
Emergency Exposure Limits - 65 psi (450 kPa) (inlet side only)
Maximum Individual Load - Largest single appliance served by the regulator: 325-3L: 140,000 Btu/h; 325-5L: 425,000 Btu/h; 325-7AL: 1,250,000 Btu/h; 325-9L: 2,250,000 Btu/h; 325-11: 4,450,000 Btu/h
Capacity - Total load of multiple appliance combined: 325-3L (3/8", 1/2"): 250,000 Btu/h; 325-5L (1/2"): 500,000 Btu/h; 325-5L (3/4", 1"): 600,000 Btu/h; 325-7AL (1 1/4", 1 1/2"): 1,250,000 Btu/h; 325-9L (1 1/2", 2"): 2,250,000 Btu/h; 325-11L: 4,450,000 Btu/h
NOTE: Capacities determine the maximum multiple appliance load. The largest single appliance served by the regulator should not exceed the maximum individual load specified.
Ambient Temperature Ranges - -40 to 205°F (-40 to 96°C)
Options
Line Regulator Options
Vent Limiting Device
For indoor installations, a vent limiting device (vLimiter) eliminates the need to vent the regulator to the outdoor atmosphere. Maxitrol line-pressure regulators do not have an internal relief function. When using the vLimiter, if there is a diaphragm rupture, the gas escapement stays within ANSI standard requirements. Part # 12A09, 12A39, or 12A49
The Maxitrol vent limiting device does not release or relieve gas into the environment during normal operation. The vLimiter is designed for indoor use and for spaces, where limiting the amount of gas escapement due to diaphragm failure is essential. The vLimiter should not be used outdoors if exposed to the environment. Instead, vent protectors are available for outdoor usages to ensure proper vent protection.
The vLimiter can only be installed in certified regulators and directly into the vent connection of the regulator without intermediate pipe or fittings. When using a vent limiting device, the regulator must mount in a horizontal upright position.
The vLimiter vent limiting device meets ANSI Z21.80/CSA 6.22.
Vent Protectors
For outdoor applications, the vProtector shields the breather hole from snow, rain, dust, insects, and other foreign objects. When using a vProtector, mount the regulator in an upright position.
Maxitrol's RV, R, and RS Series and 325 Series regulators (325-3, 325-5, 325-7A and 325-9) are certified ANSI Z21.18/CSA 6.3 as appliance regulators. Before the current standard (ANSI Z21.80/CSA 6.22) Appliance regulators were often used as line pressure regulators.