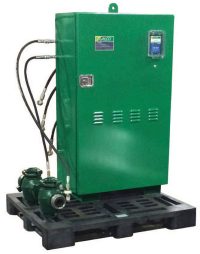 Dualco Multi-Point Automatic Lubricator

The Dualco Multi-Valve Grease Gun D.A.M.™ is an automated lubrication system, which automatically lubricates multiple valves while maintaining accurate lubricant levels without under- or over-lubricating.
Dualco Automated Multi Valve-Point (D.A.M.™) Lube
Given that 54% of valve failures relate to improper or inadequate lubrication, the Dualco 13000 D.A.M. is positioned to assist in improved maintenance and operations of valves.
Features & Benefits
Automated lubrication
Use one-third less grease (than standard lubrication equipment)
Even and superior application of lubricant to valve seats
Metered application of lube delivers excellent protection and performance
No more over lubricating
Lower CO2 emissions by lowering the use of grease
Reduce
Labor
Waste
Downtime
Environmental Impact
Increase
Valve life
Safety
Productivity
Profits
Applications
Applications for the Lube System
Wellheads
Pipelines
Offshore
Manifolds
Fracturing
Industrial