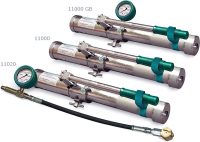 Dualco High Pressure Grease Guns

Dualco hydraulic grease gun models are for high-pressure lubricating applications, including ball, gate, and plug valves. These grease guns are easy-to-operate, efficient, rugged, longlasting, and rated up to 10,000 PSI. They can be used at high temperatures and in harsh environmental services, including steam, hot oil, hot compressed gas, and offshore platforms.
High-Pressure Grease Guns
The Dualco grease guns can apply both standard and specialized lubricants, in stick, or bulk. These grease guns can efficiently pump highly viscous lubricants, sealants, packings, and cleaners. They are adjustable for pumping liquids and suitable for measured amounts, preventing excess material discharge. Dualco grease guns are also used for hydrostatic and applied testing on pipelines and wellheads.
Features & Benefits
Hydraulic Gun Models
Model 11000 – the primary gun with no attachments
Model 11000GB – the primary gun with integral pressure gauge affixed to the gun body (other assembly options available)
Model 11020 – incorporates the 26" O.A.L. 10876 hose assembly with integrated pressure gauge and giant button head coupler outlet
Features
Safety latch and tamperproof internal relief valve
Detachable handle with 1 oz. calibrations (volume)
Handle used as push rod to return barrel piston, and lock/unlock barrel cap
Easily serviceable and replacement parts readily available
Double bypass valve stop and sliding stop link
Heavy-duty metal construction
Handle retaining strap
"Sure-Grip" surfaces
Corrosion-resistant
Applications
Lubrication Applications
Lubricating pumps and ball, gate and plug valves
Pipelines that transport chemicals, crude or refined oil, natural gas, LPG, hydrocarbons, and other fuels; pumping and compressor stations; refineries, and chemical plants
Industries Served
Industries Served
Steel mills, lumber, and paper mills, and gas drilling/production fields, asphalt, rubber, water and sewage treatment plants, heavy equipment, marine, manufacturing, mining, industrial and municipal utilities