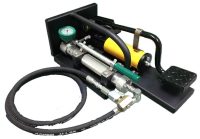 DUALCO 11725 Foot-Operated Grease Gun

The DUALCO grease gun 11725 is foot-operated, rugged, easy to operate, lightweight, and provides a fast discharge. This lubrication equipment is ideal for pumping valve flush, cleaners, and lube sealants into ball valves and plug valves. It is also perfect when compressed air is not available.
Hydraulic Lubrication Equipment
The DUALCO hydraulic gun has an aluminum frame, a 10,000 psi hydraulic pump, and a 14 oz "K" barrel. This versatile gun is appropriate for applications in the plant, field, and offshore platform. The grease gun pumps highly viscous lubricants, sealants, packing, and cleansers into ball valves and plug valves. The hydraulic gun adapts for injecting liquids and also used for hydrostatic and applied testing on pipelines and wellheads.
Features & Benefits
Air/Hydraulic Injection Gun Features
Compact and portable
A tamper-proof internal relief valve
Superior pumping functioning with lubricants, sealants, packing, and cleaners
Handle used as a push rod to return barrel piston and to lock/unlock barrel cap
Easily refilled with sticks or bulk
Easily serviceable and all parts are quickly obtainable
Heavy-duty construction
Corrosion-resistant
"Sure-Grip" surfaces
Applications
Grease Gun Applications
Injecting materials into valves and pumps when a fast, controlled discharge rate is beneficial
Pumps valve flush, valve cleaners, and valve lube sealants into a ball and plug valves
Working in extreme temperatures and harsh environments
Industries Served
Industries
Pipelines transporting chemicals, crude or refined oil, natural gas, LPG, hydrocarbons and other fuels, pumping and compressor stations, refineries, and chemical plants
Steel mills, lumber and paper mills, gas and oil drilling/production fields, asphalt, rubber, water and sewage treatment plants, heavy equipment, manufacturing, mining, marine, industrial and municipal utilities