NWBOC Eclipse Award for Outstanding Company Culture 2015
At the beginning of the year, I was thrilled to learn that Linc Energy Systems was being inducted into the NWBOC Hall of Fame because we had been certified a WBE (Women Business Enterprise) for so long. When I read the congratulatory note, I thought, 'Award ceremony in October? Perfect time for a trip to Florida!'
2015 Eclipse Award
As the date of the award ceremony approached, I also learned that I was selected as a finalist for an Eclipse Award for "Outstanding Business Culture." I wondered if I placed second or third. Either way, I thought, 'Being a finalist is an honor!'
Last week when I was at the award ceremony, and they announced my name as the winner, I was bowled over.
Outstanding Company Culture
Our company is different on many fronts. It does not make our model right; it just works for us.
I am aware that this business can be cutthroat, competitive, and male-dominated. It has taken me a couple of decades to realize that Linc Energy Systems can be softer, more progressive, and adopt a more sociable approach, and still get results.
We place great effort in searching for the best employees, contractors, and principals that align with our values, which are integrity, innovation, empowerment, value, and gratitude. We've learned that when we align with parties that do not share our ideals, the relationship does not grow. Consequently, we do not thrive. By learning from our mistakes we have moved from stagnation to growth, and because of our dedicated staff that is empowered to build their success, we fuel our future.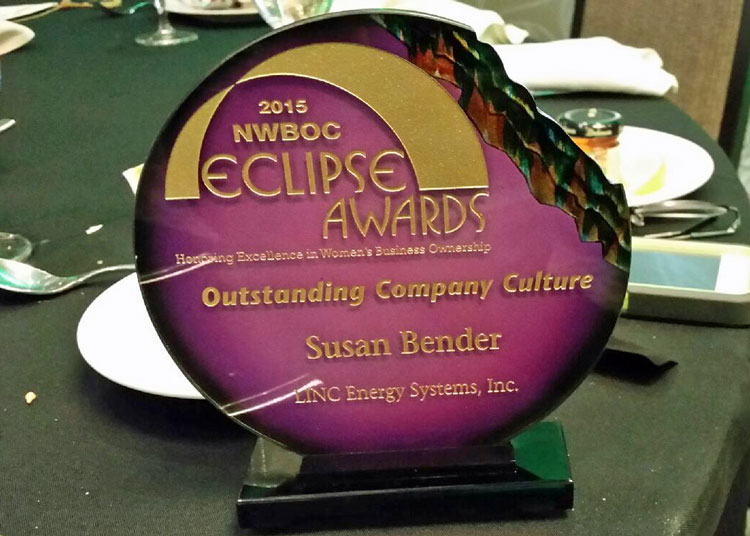 We are in the business of creating thought leaders and developing relationships. We want our customers to turn to us because we are service-oriented. We value our principals and are grateful for our relationships with both vendors and clients.
In an industry where things need to be faster and more efficient, we have found the middle ground. We invest in technology to keep ahead, yet we are the first to recognize the value of a phone call or handshake. We practice the customer is always right, even when the indications may not appear to be so. If we are not smiling, we're regrouping to evolve.
We are not afraid of working hard. I have learned that when business is not fun or communication fails, it is time to take a step back and get my magnifying glass out. Our culture is ever-evolving. It is a process of trial and error, of evaluating and redefining. We are a customer-driven company, and our primary objective is to make a measurable difference.
Some suggest a business's culture is its heart and soul. Our culture is the seat of the evolving soul.
More on Susan Bender
Susan Bender loves her job. She strives to build a legacy, a place her staff enjoys working and is empowered to develop their dreams. She is the founder, President, and CEO of Linc Energy Systems, a manufacturers' representative, distributor, and contractor for the natural gas industry. Bender is a Denver Business Journal 2015 Top Woman in Energy, a Honeywell Process Controls Diamond Channel Partner, and former Xcel Energy (Public Service Company of Colorado) Woman Business of the Year. She has garnered multiple marketing accolades. Bender is a philanthropist, donates her time, talents and treasures with pleasure. In her spare time, Bender is the leading member, President, and CEO of GPL Odorizers LLC, the manufacturer of planet-friendly natural gas odorization systems.
About the NWBOC
The NWBOC (National Women Business Owners Corporation) is the first national organization to certify that a private company is indeed owned and controlled by a woman and/or veteran.