Susan Bender Wins Titan 100 Award
Linc Energy Systems, Inc. president and CEO Susan Bender can now add Colorado Titan 100 Award Winner to her long list of career accolades. Competition for this prestigious award given to CEOs and C-level executives is fierce. An independent judging committee of industry experts reviews and scores hundreds of nominations and ultimately selects 100 outstanding people they consider Titans of Industry.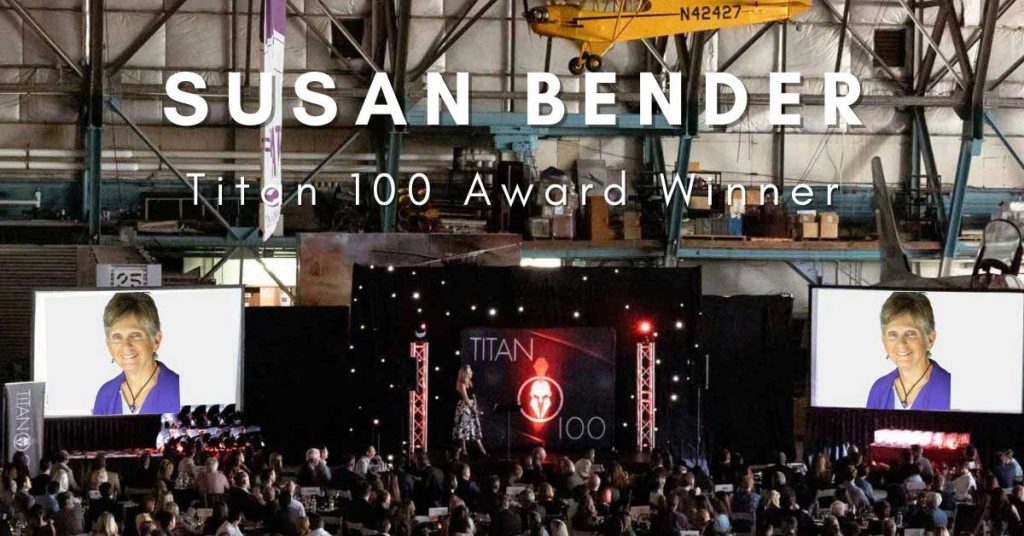 Hundreds gathered to honor past and present Titan 100 Award winners in the historic Hangar No. 9 at the Wings Over the Rockies in Denver, Colorado.
Titan 100 Awards
The Titan 100 award recognizes people who have demonstrated exceptional leadership, vision, passion, and influence in their field. That description undoubtedly describes Susan Bender. For those who have worked with Susan, it is no surprise that she was recognized for exceptional leadership, vision, passion, and influence in her field. From the start of her career, Susan Bender has excelled in the male-dominated natural gas industry.
Throughout her career, she has faced many obstacles consistent with any small business; financial management, employee retention, rising above the competition and developing an effective brand. In addition to those challenges, she's overcome other hurdles, such as maintaining good relations with family employees, overcoming gender discrimination, and battling more than one encounter with cancer. Despite the challenges, Bender has managed to lead her company from a single-person manufacturers' representative firm into a multimillion-dollar venture with advantageous distributor contracts, including more than one contract with Honeywell, a Fortune 500 company.
The Early Days
In the late 80s, someone from Honeywell, formerly Mercury Instruments, approached and encouraged Susan to move to Colorado and start her own business as a manufacturer's rep to sell their product line.
Fearlessly, or as she will tell you, naively, Susan headed west.
From a small 1-bedroom condo in Littleton, Colorado, she secured a handful of contracts with other manufacturers, also needing sales representation in the Rocky Mountain Region. Armed with those first few contracts and a lot of ambition, she launched Linc Energy Systems, Inc., naming the company after her devoted Shih Tzu, Abraham Lincoln, or Linc, as she called him. Together, they traveled the long, lonely roads of the vast western region. Susan was determined to make a name for herself.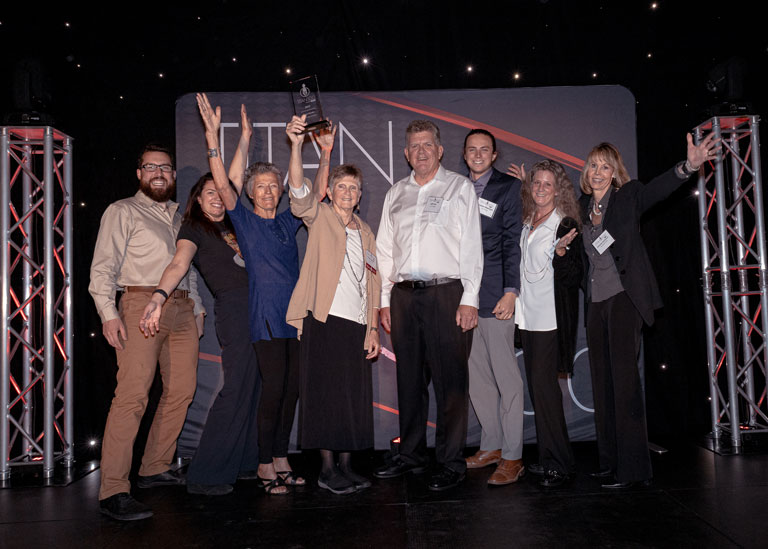 Susan Bender, Linc Energy Systems president & CEO, celebrates her Titan 100 Award with her family and team at Wings Over the Rockies.
The Vision
Fast forward 32 years. Susan is still the active president and CEO for Linc Energy Systems, and she and her team have grown into a leading manufacturer's representative, distributor, and contractor throughout the United States.
It hasn't always been an easy road. Early on, Susan embraced the idea of selling products that focused on reducing emissions, an idea that was not very popular in the natural gas industry. Regardless, Susan pushed ahead with her vision of Linc Energy operating with a focus on making a positive impact on the environment, as well as her customers and a small network of highly trusted employees. Her vision has never wandered from her original intent.
To that end, Susan expanded her business. In 2015, Bender spearheaded the acquisition of an eco-friendly odorization equipment line. Odorization equipment injects mercaptan into natural gas so that a person can smell the gas because, in its natural state, natural gas does not smell. She recognized this company's equipment's potential, given that it was the industry's first no-emission odorant injection system. She and Jeffrey Cox formed GPL Odorizers, and the new company acquired the odorizer line assets. Linc Energy Systems was designated the global distributor of GPL Odorizers and is the authorized service provider for odorization equipment.
All You Need is Love
If you ask Bender what her company's higher purpose is, she'll tell you, "To build and maintain a culture of love." At its core, the company values are reflective of Susan's personal values: integrity, innovation, empowerment, respect, giving back, gratitude and love.
She puts her money where her mouth is. Susan leads by example by investing in her team rather than replacing talent and offers paid consultation services to employees facing a challenging growth curve. She provides a meditation area to foster serenity and self-reflection, encourages employees to personalize their office space, and provides bonuses and gifts to incentivize and show her gratitude and love.
Pay it Forward
Susan Bender loves to share her success. A philanthropist at heart, she formed The Susan M. Bender Family Fund with the Denver Foundation. As a business leader, she encourages her team to get involved with local nonprofits such as Project Angel Heart. Employees are often encouraged to support nonprofit events during business hours.
Perseverance and Kindness
Susan Bender is a Titan 100. It's easy to see why Susan was named a Titan 100 of industry In Colorado. Time after time, she has demonstrated incredible strength to overcome her obstacles, and she does it with love in her heart and a smile on her face. She leads her company consciously and through her intuition. She's demonstrated great understanding and intelligence in leveraging her company's assets to achieve desirable growth, and while her company's offerings provide real solutions to help offset climate-changing methane emissions, her personal offerings provide us with a blueprint for living life fully.
Titan 100 Award Video
Watch Susan on "Pushing Boundaries, Making Mistakes, Recipe for Success" at 2:03 and 3:03.