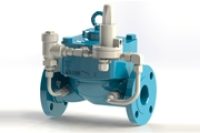 HON 5020 Gas Pressure Regulator

The Honeywell HON 5020 gas pressure regulator is designed for gas pressure reduction for low, medium and high-pressure industrial and commercial applications, such as municipal distribution, gas transmission, and industrial power plants. The regulator features an advanced external pilot operation for safe and accurate control of outlet pressure.
Honeywell 5020
The HON 5020 is perfect for demanding applications. The innovative, pilot-operated regulator provides safe, precise and controlled outlet pressure reduction. It delivers excellent accuracy over a wide operating range while offering a quick response time for the changing demands of industrial applications. The pressure-balanced double diaphragm pilot provides high stability. If required, the outlet pressure range can easily be changed by replacing the set-point spring.
The 5020 (formerly RMG) has a top-entry design with fewer internal parts which keeps maintenance requirements to a minimum while an internal filter enables long-term reliable operations and lower downtime.
Features & Benefits
HON 5020 Benefits
Simplified design for long service life
Minimal moving parts
High sensitivity and accuracy
Precise control of set outlet pressure
Ability to handle flow rate variations
Low maintenance requirements
Low differential pressure requirements