Sage Metering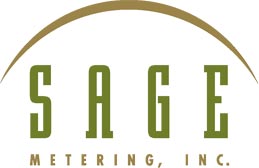 Sage Metering is an innovative manufacturer of a high performance thermal mass flow meter for gas flow measurement. Sage has brought to market the first thermal flow meter using graphical displays, a distinctive digitally-driven circuit and the industry's first in-situ calibration verification procedure. Sage is recognized as a leading provider of gas mass flow meters, having won four Flow Control Magazine Innovation Awards.
Sage Metering Thermal Mass Flow Meters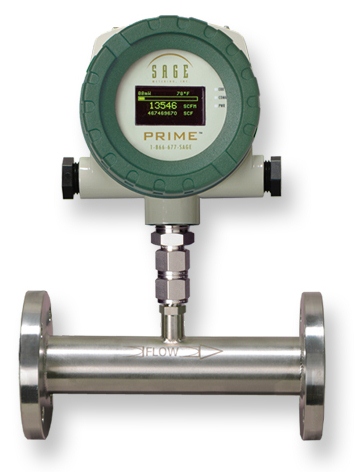 Linc Energy Systems is the manufacturer's representative and distributor for the Sage Prime thermal flow meter in Colorado, Idaho, New Mexico Utah and Wyoming.Sage Prime®- Sage's flagship model, used by industrial, environmental or commercial end users. It is housed in a dual sided NEMA 4 enclosure, with full Modbus® compliant communications and is UL, CSA and ATEX compliant.
Sage RioTM - Industrial thermal flow meter with Class I Division 1 Groups B, C, D and ATEX Zone 1 Flameproof approval, ideal for flare gas monitoring, landfill gas flow, digester gas flow measurement and natural gas measurement.
Sage 300™ - Low-cost thermal mass flow meter offering comparable performance as the Prime, with fewer premium features.
Flow Meter Applications
Environmental
A Sage flow meter can be used for a variety of environmental applications, such as anaerobic digestion wastewater treatment, atmospheric storage tank vents, biogas measurement, carbon credit trading, flare gas measurement, flue gas monitoring, ethanol production, greenhouse gas reporting, landfill gas monitoring, manure or methane digestion, ozonation, wastewater aeration, wastewater treatment odor control, water chlorination.
Thermal mass flow meters excel in monitoring greenhouse gases in various applications, including: biogas, landfill gas and flare gas flow measurement. Read More >
Reduce Energy Costs
Thermal mass flowmeters increase productivity, reduce energy costs and maximize product yields. They save operators money in a number of applications, including natural gas measurement, facilities management and energy management, compressed air flow Measurement, LEED building and natural gas submetering, and aeration flow.
Industrial plants are saving energy using energy management and compressed air monitoring systems which cut cost and improve efficiency and performance. Read More >
Industrial
The Sage gas meter delivers highest performance, reliability in a variety of industrial applications, such as combustion control, compressed air measurement, gas valve testing, greenhouse gas emissions reporting, natural gas flow measurement, nitrogen monitoring, performance contracting, submetering natural gas, textile manufacturing, and vent air flow measurement.
Thermal mass flow meters are an effective way to measure flare gas when gas composition is known and is offering a viable solution to the high expense of ultrasonic meters. Read More >
Submetering Natural Gas-Industrial
Because of the rising energy costs, along with societal and government pressure to reduce emissions, monitoring natural gas mass flow and consumption within a facility's individual zones has become desirable. By monitoring a facility's gas flow it not only encourages conservation, but also process efficiencies can be assessed, unusual flow can be identified and the facility can cost allocate various operating areas. Additionally, by submetering process equipment, fuel leaks can be identified and information from the flow meter can spot if equipment needs to be maintained or replaced.
Natural Gas - Commercial and Residential
Government regulations often require submetering of natural gas at campuses, large residential projects, high rise buildings, government facilities, large commercial applications or shopping centers. Even when it's not required, energy-minded stakeholders and landlords often use submetering. By monitoring the flow rate and consumption at individual zones, it becomes possible to identify unusual consumption points, encourage conservation, reduce energy costs as well as minimize environmental impact.
Manufacturer's Representative and Distributor
Linc Energy is a manufacturer's representative and distributor for Sage flow meters in Colorado, Idaho, New Mexico Utah and Wyoming.