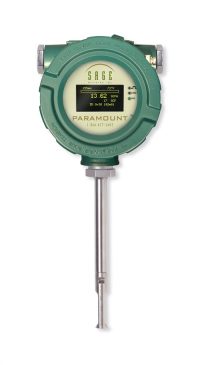 Sage Paramount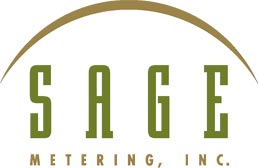 The Sage Paramount meter is the latest in the Sage Metering lineup and appropriate for industrial applications. While the thermal mass flow meter looks a lot like the Sage Prime, there are some key differences.
Sage Paramount Industrial Flow Meter
The industrial meter features the Sage Prime display and circuitry yet uses a NEMA 4X enclosure, further protecting the meter against harsh environmental elements and boosting corrosion protection. The Paramount has an optional Cl 1 Div 1 (Groups B, C, D) rating (available 2/1/21). The standard rating is Class 1 Div 2 Groups B, C, and D.
Additionally, Paramount offers a second communication channel, a mini USB, that allows users to perform a validation test with the SageCom software. This direct USB connection from the flow meter to a laptop will not interfere with Modbus outputs going to a control center or SCADA system that may be used to monitor other Sage meters in a daisy chain wiring scheme.
Features & Benefits
The Paramount's display is much like the Prime, in that it has a high-contrast photo-emissive OLED displaying flow rate, total and temperature. The flow rate displays in a horizontal bar graph. The Paramount flow meter is available in an integral or remote. The remote-style meter has lead-length compensation up to 1000 feet and an explosion-proof junction box.
Specific Benefits Sage Paramount
Sage in-situ calibration check verifies that the sensor is clean, and assures there is no drift, or shift in the flowmeter
Free SageCom™ validation and configuration software with each Paramount purchased
High contrast photo-emissive OLED with numerical flow rate, total and temperature, and a graphical flow indicator
Calibration milliwatts (mW) continuously displays for ongoing diagnostics
Two probes; 1/2" diameter probe and optional rugged 3/4" probe and sensor with a double seal (for insertion style)
Measures gas flow as high as 35000 SFPM (e.g., 3100 SCFM in a 4″ Pipe)
A proprietary digital sensor drive circuit provides enhanced signal stability and is unaffected by process temperature & pressure changes
Modbus® compliant RS485 RTU communications (HART™ optional) as well as a separate USB communication channel
Isolated 4-20 mA output and pulsed output of the totalized flow
Rugged, user-friendly packaging with well-marked and easy terminal access including a different USB port
The remote-style model has lead-length compensation. Allows remote electronics up to 1000 feet from the probe; explosion-proof junction box has no circuitry, just terminals (suitable for harsh environments)
Low power dissipation
Flow conditioning built into inline flow meters (1/2″ and up)
Captive Flow Conditioners available for insertion meter applications, if needed
Applications
Natural Gas - Thermal mass flow meters are not AGA-approved for custody transfer. However, the meters are acceptable to measure natural gas flow in combustion control, GHG reporting, submetering, and real-time gas measurement in pipelines.
Flare Gas - Gas flares burn off excess or unintentionally released gases. Flares are used in natural gas production and distribution, oil refineries, wastewater treatment, and the steel industry. In these applications, thermal mass flow meters are ideal for measuring the gas flow. Read More>
Energy Management - As industries adopt energy management systems, there is a need to establish baseline gas usage and continuously monitor to improve the process. Within these systems, thermal mass flow meters excel in natural gas consumption, combustion control, and compressed air monitoring.
Combustion - Combustion is the process of burning fuel in the presence of oxygen, and its efficiency depends on the air-to-fuel ratio. By measuring the air and natural gas flow to a combustion device, the user can create optimum operating conditions to achieve complete combustion.
Biogas - Thermal mass flow meters measure biogas and offer distinct advantages over alternative flow meters. This meter type satisfies gas measurement at wastewater treatment plants, in waste-to-energy projects, and at landfills.
Industrial Air –Air is a mixture of gases. Many industrial and commercial applications use thermal mass flow meters, including combustion air, compressed air, spray drying, and aeration air.
Industries Served
Midstream Oil and Gas
Upstream Oil and Gas
Wastewater
Waste
Steel
Pharmaceutical
Biotech
Textile
Paper
Power Generation