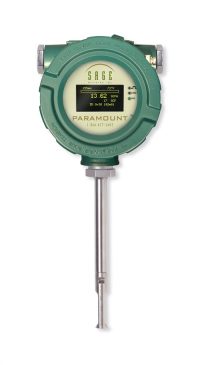 Sage Paramount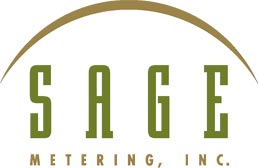 The Sage Paramount meter is the latest in the Sage Metering lineup and appropriate for industrial applications. While the thermal mass flow meter looks a lot like the Sage Prime, there are some key differences.
Sage Paramount Industrial Flow Meter
The industrial meter features the Sage Prime display and circuitry, yet uses a NEMA 4X enclosure, further protecting the meter against harsh environmental elements and provides a boost in corrosion protection.
Additionally, the Paramount offers a second communication channel, a mini USB, that allows users to perform a validation test with the SageCom software. This direct USB connection from the flow meter to a laptop will not interfere with Modbus outputs going to a control center, or SCADA system that may be used to monitor other Sage meters in a daisy chain wiring scheme.
Features & Benefits
Like the Prime, the Paramount's display is much like the Prime, in that it has a high-contrast photo-emissive OLED displaying flow rate, total and temperature. The flow rate displays in a horizontal bar graph. The Paramount flow meter is available in an integral or remote. The remote-style meter has lead-length compensation up to 1000 feet and an explosion-proof junction box.
Specific Benefits Sage Paramount
Sage in-situ calibration check verifies that the sensor is clean, and assures there is no drift, or shift in the flowmeter
Free SageCom™ validation and configuration software with each Paramount purchased
High contrast photo-emissive OLED with numerical flow rate, total and temperature, and a graphical flow indicator
Calibration milliwatts (mW) continuously displays for ongoing diagnostics
Two probes; 1/2" diameter probe and optional rugged 3/4" probe and sensor with a double seal (for insertion style)
Measures gas flow as high as 35000 SFPM (e.g., 3100 SCFM in a 4″ Pipe)
Proprietary digital sensor drive circuit provides enhanced signal stability and is unaffected by process temperature & pressure changes
Modbus® compliant RS485 RTU communications (HART™ optional) as well as a separate USB communication channel
Isolated 4-20 mA output and pulsed output of the totalized flow
Rugged, user-friendly packaging with well-marked and easy terminal access including a different USB port
The remote-style model has lead-length compensation. Allows remote electronics up to 1000 feet from the probe; explosion-proof junction box has no circuitry, just terminals (suitable for harsh environments)
Low power dissipation
Flow conditioning built into inline flow meters (1/2″ and up)
Captive Flow Conditioners available for insertion meter applications, if needed