Itron Natural Gas Meters and Regulators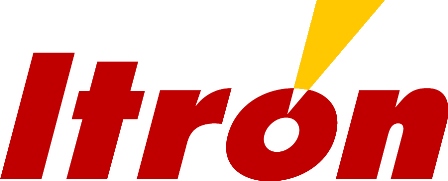 Itron, formerly Actaris (and Schlumberger) designs and manufactures natural gas measurement and control equipment to meet the requirements of gas suppliers and contractors throughout North America. Itron products include residential, commercial, and industrial natural gas meters and gas regulators.
Itron Gas Meters

Diaphragm Meter
Diaphragm meters measure volumetric flow, are inexpensive and have a long-life expectancy making them a favorite for gas distributors, contractors, and gas producers. The meters use positive displacement principles and provide an accurate and reliable measurement. Itron meters measure natural gas (LPG also) volume, and Itron offers models for residential, light-commercial, submetering, commercial and light-industrial applications.
Ultrasonic Flow Meter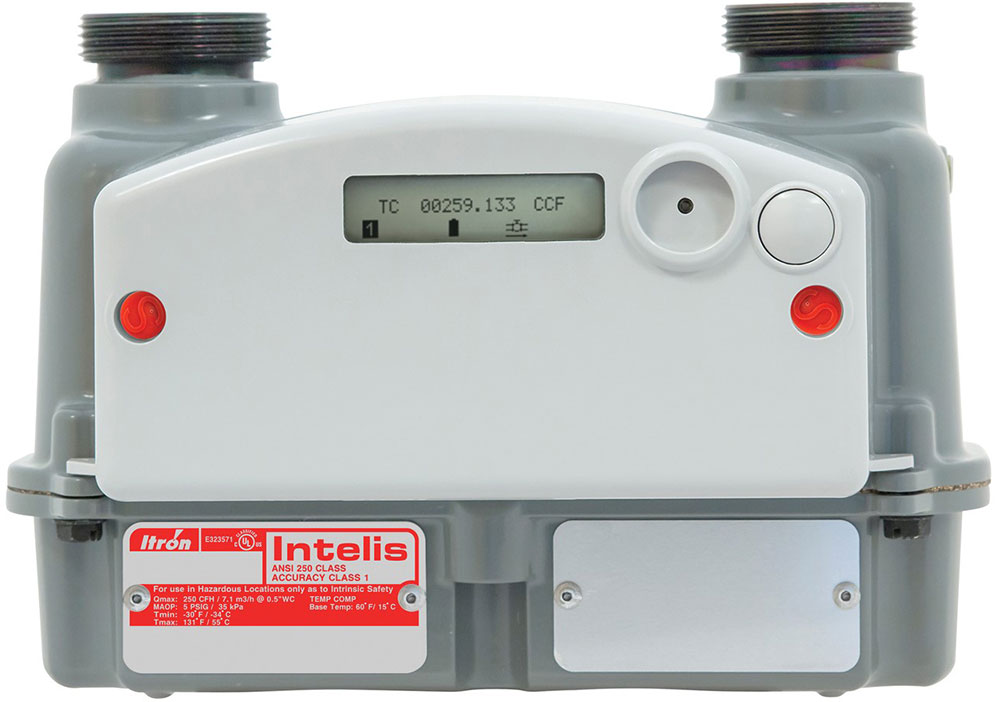 The OpenWay® Riva Intelis is a compact residential ultrasonic gas meter with embedded communications and a safety shutoff. It is also the lightest and most compact 250 SCFH residential gas meter on the market.
If you are interested in an ultrasonic meter for the custody transfer of natural gas in gathering, distribution, and transmission, visit QSonic Plus.
DATTUS III Gas Meters
Itron no longer manufacturers the DATTUS III meter which accommodated commercial and industrial gas measurement. Visit Natural Gas Meters to review other metering alternatives.
Regulators
Residential
Itron spring-loaded service regulators are simple, direct-acting units designed for accuracy, safety and dependability. These regulators are mainly for the final stage, lower-outlet pressure applications (inches w.c. to 2 or 5 PSIG). Typical uses include residential and low-outlet pressure commercial and industrial gas supply and all gas-fired equipment including furnaces, boilers, ovens, dryers, and heaters.. Read More >
Commercial and Industrial
Itron spring-loaded regulators are suitable for commercial and industrial usages such as gas engines, furnaces, burners, and boilers. The quick response of the B34 is exceptionally well-matched for mid-range uses where quick on/off loads cause shock problems. Read More >
Field Service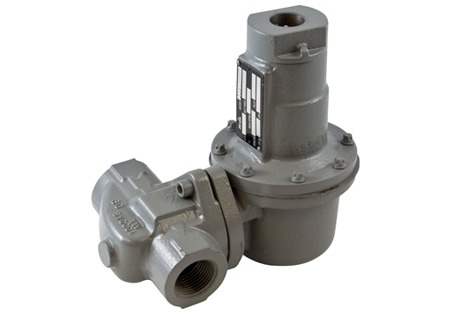 Itron's versatile field service regulators deliver quality pressure regulation for applications, including farm taps, compressed air systems, and medium- to high-pressure industrial applications. Read More >
Other Options
If your application is outside the scope of Itron gas regulators, consider other options from Maxitrol and Honeywell.
Stocking Distributor
Linc Energy Systems is a distributor for the Actaris Itron meter and regulator. Our warehouse is located in Lakewood Colorado, offering just-in-time delivery for select models.
Since 1990, Linc Energy Systems has been a reliable source for products and services. We are a woman-owned company providing solutions to many industries as a manufacturers' representative, distributor, and contractor. We specialize in measurement and control, gas odorization, damage prevention and offer an extensive line of industrial gas products to the natural gas industry, as well as industrial, commercial and government entities serving the same and related markets.
Articles of Interest
Solutions for Inspecting, Testing, and Protecting Farm Taps Regulators
Recent PHMSA DOT regulations (49 CFR 192.740), prescribe inspection activities for farm tap regulators. Here are some solutions.
To correctly size your natural gas regulator, the following considerations are required: gas type, application, inlet, and outlet pressure, flow, pipe size, and there are others.