Natural Gas Measurement, Control, and Odorization Log
We provide insights into natural gas measurement, control, odorization, and various natural gas products.
GPL 10000 Odorizer Principle of Operation
The GPL 10000 odorizer uses advanced technology for accurate, repeatable, and low maintenance odorant injection. Here is the principle of operation for the odorization system.
Odorizer Overview
GPL Odorizers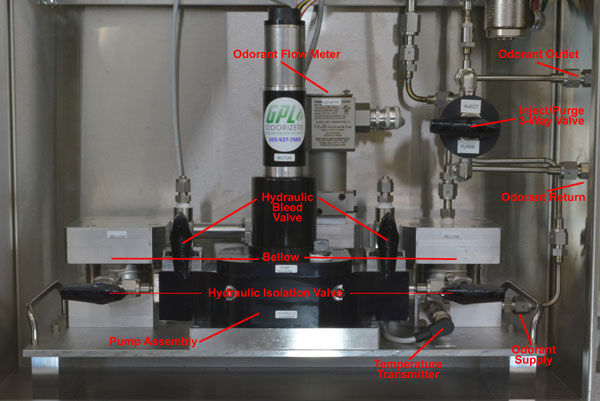 A modular solid-state manifold with minimal joints and few moving parts assures long-lasting performance.is the manufacturer of advanced, cost-effective and planet-friendly odorization systems for natural gas, biogas, and propane. The GPL 10000 is the manufacturer's model for high-volume and high-pressure applications typical of transmission companies and large city gate stations.
The GPL 10000 utilizes patented technology to deliver continuous odorant injection proportional to the gas flow. The 10000 has high rangeability (100:1 turndown ratio) providing precision odorization (0.2% accuracy) over a wide operating range of volume, from 480 MSCFD to 240 MMSCFD, for pipelines with pressures up to 1480 PSI.
The GPL 10000 does not use pipeline gas to activate the system, it is electrically driven and hydraulically isolated, and has a clean, sealed, and ventless design. No gas or odorant ever discharges to the atmosphere from the odorizer; therefore, there is no smell during normal operation and maintenance. This design alone contributes to lowering false leak-call complaints commonly associated with the operation of an odorization system. Additionally, a modular solid-state manifold with minimal joints and few moving parts assures long-lasting performance. In addition to the unit's simplicity, the system is easy to maintain and operate.
PLC Interfaces with Injector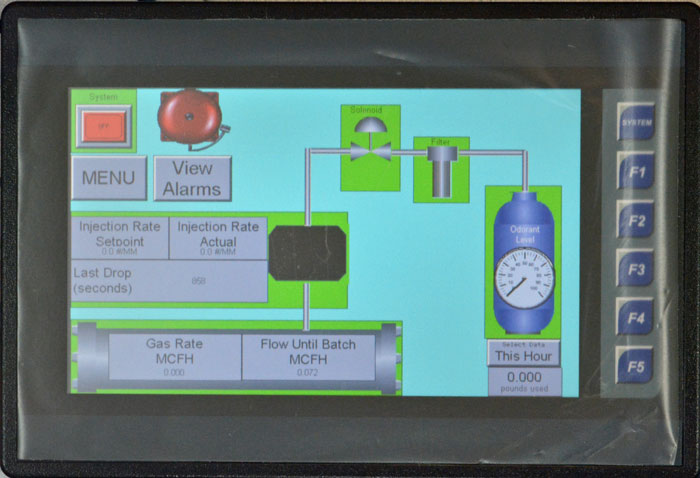 Intuitive 7" Touchscreen PLCAn industry-leading programmable logic controller (PLC) interfaces with the flow meter and the odorant injection system components to maintain constant odorant injection proportional to the gas flow rate.
Unique Dual-Stroke Injection
A variable speed electric servomotor drives a mechanism that converts the rotary motion of the motor into two linear strokes. One stroke sends hydraulic fluid into one pump module, compressing the bellows to discharge a fixed volume of odorant. Simultaneously, hydraulic fluid withdraws from the opposing module, expanding that bellows and draws new odorant for the next injection stroke. This dual-stroke action, unique to the GPL 10000, provides nearly continuous injection flow, a feature not offered by single pump injectors.
As the pipeline flow rate varies, the pump motor speed adjusts to change the time per stroke while maintaining a constant odorant flow. With a maximum motor rate of 25 revolutions/minute, there is virtually no risk of fluid flashing from pressure drop.
Solid-State Modular Design
The GPL 10000 utilizes a solid-state modular designed pump assembly which minimizes joints and fittings. The hydraulic section of the bellows pump is isolated from the odorant section, and there are no seals or diaphragms requiring replacement in the odorant section of the pumping circuit. The only replacement items are the hydraulic piston seals, engineered for long-lasting performance, and a filter to be replaced annually. When piston seal replacement is required, the drive system is easily isolated from the pump modules by closing the isolation ball valves, located on each hydraulic line. The piston seals are within cartridge assemblies, permitting quick and easy replacement.
Self-Monitoring and Real-Time Alarms
The system is self-monitoring and generates an external alarm to PCs and smartphones if the odorizer is unable to odorize within the configured settings. Alarm conditions are stored and time-stamped in non-volatile memory (SD card).
If you are interested in learning more about the GPL 10000 odorant injection system, download the new GPL 10000 datasheet, download the GPL Odorizer brochure, or request a quote now.
Trackback URL for this blog entry.