Pete's Plugs—The Proven Test Plug
Here is everything you need to know about Pete's Plugs for natural gas, including who makes them, who's the authorized distributor, how they operate, and where to buy them. For natural gas, IMAC Systems is the only national and international distributor for the Peterson Equipment Company, the manufacturer of Pete's Plugs®.
Where to buy?
Since Linc Energy Systems has been an authorized distributor for IMAC Systems since 1990, it's our pleasure to offer this longtime industry favorite, Pete's Plugs.
What is a Pete's Plug?
Nearly every private and public utility system in the United States uses Pete's Plugs. For 40 years, the company has taught us to call test plugs—Pete's Plugs. It becomes confusing when the competition even calls its product "a Pete's Plug." Pete's Plugs® is a branded name and trademarked by the Peterson Equipment Company.
The Pete's Plug is a pressure-temperature test plug (P/T Port). It is a simple mechanical fixture that permits access to a gas stream to take pressure or temperature readings. Two internal valves are typically closed. When a needle inserts into a Pete's Plug, the valves open. Similarly, when the needle withdraws, the valves automatically close. The test plugs for natural gas have a blue strap to retain the cap, which also indicates that the internal valves are neoprene.
Blue vs. Yellow Fasteners
If you have Pete's Plugs with yellow straps, the internal valves are Nordel (EPDM), indicating that the plug is for hydronic use. Since Nordel deteriorates in natural gas over time, make sure the plastic fastener is blue.
How do they work?
A Pete's Plug cleverly and conveniently permits technicians to access their gas stream at any time. When a utility builds a system, it installs an inexpensive Pete's Plug at points where they anticipate needing future access to the gas stream.
Before Pete's Plugs came to be, utility companies installed pressure gauges or expensive needle valves instead. The gauges, often unreliable, failed from environmental factors, including vandalism. The devices also were typically low accuracy. When installing an inexpensive Pete's Plug, the utility does not leave a gauge in the line. Instead, the Pete's Plug permits the technician to access the gas line using an adapter and a more accurate and reliable gauge to obtain better data.
Petes Plugs Gauge Adapter
The Pete's Plug adapter permits the technician to use gauges for pressure readings with an installed Pete's Plug. The adapters are probes (needles with holes in the end) with a threaded fitting. The technician does not leave the adapter in the line. It is reusable. The Pete's Plugs Gauge Adapters are available in different configurations (probe diameters and probe lengths), the most popular Pete's Plug Adaptor being:
Model 500 Gauge Adapter (1/4″ NPT female adapter with a 1/8″ diameter probe)—Model 500 has a thicker probe and is more robust, however, it will not work with Pete's Plug model 12500 (1/8″ test plug).
Model 510 Gauge Adapter (1/4″ NPT female adapter with a 1/16″ diameter probe)—Model 510 works on any size of Pete's Plug. While this adapter is not as robust as the Model 500, many utilities like the ease the thinner probe offers when inserting into the Pete's Plug.
Model 510-S Gauge Adapter is a shorter version of the Model 510 that works well when depth clearance is a concern. They are commonly used with Fisher or Belgas 627 regulators when a Pete's Plug is in the valve body.
Model 500XL Gauge Adapter (1/4″ NPT female adapter with 1/8″ diameter probe)—The 500XL are "extra-long" and pair with extra-long Pete's Plugs, and for use when clearance issues occur.
Specifics
Pete's Plugs come in a variety of threads to facilitate installation in different applications. They work up to 1000 PSIG (or 500 PSIG with broader temperature operating characteristics).
Applications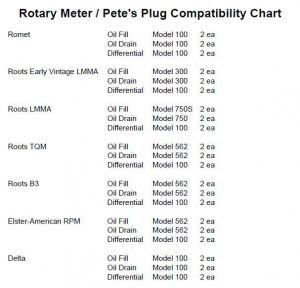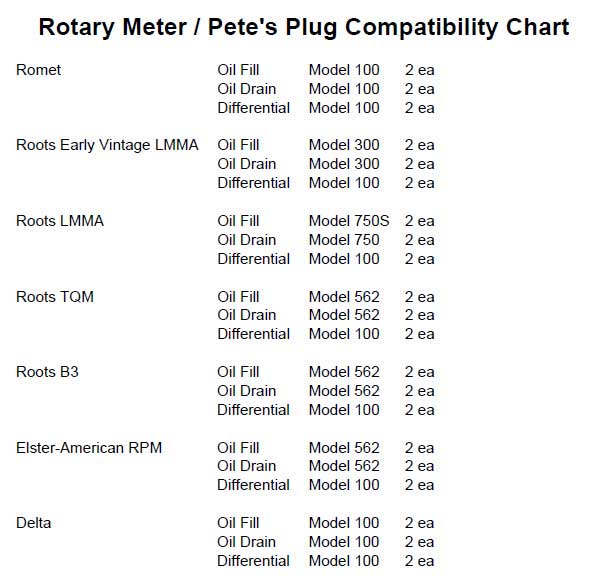 Here are some typical applications for the test plugs:
Leak testing a system (pressure testing)
Setting a regulator (pressure testing)
Troubleshooting a system, regulator, or appliance (used commonly with generators and boilers and similar equipment)
Differential pressure (drop) testing on a rotary gas meter
Checking gas temperature
Refer to our product page for more information, including operating instructions, and rotary meter compatibility.
Peterson Equipment Not Petersen Products
The Peterson Equipment Company has a distribution network that sells to the hydronic industry. A Wisconsin hydronic distributor is the "Petersen Products Company." It becomes very confusing because the distributor resells hydronic and natural gas Pete's Plugs and, at times, is thought of being the manufacturer or authorized distributor of Pete's Plugs for natural gas, which is not the case.
Other Test Plugs in the Gas Industry
Pete's Plugs are the market leader in the natural gas industry. While there are other less expensive lookalikes trying to secure a market share, the industry has shown that the Peterson Equipment Company Pete's Plug is the only proven test plug that will not leak natural gas over time. At times knock-off brands emerge and are sold as "a Pete's Plug," or the vendor misrepresents that the test plug is the same thing, only to learn later that it leaks.
To identify if your P/T port is an imitation product, look for the Pete's Plug® stamp on both the body and cap.
Romet, the manufacturer of rotary gas meters, has begun selling its meters with a Romet Plug. We recommend that our clients request Pete's Plugs instead of the Romet Plug, as Pete's Plug® by the Peterson Equipment Company has a proven record without failures.