Gas Measurement from Uncorrected Flow Rate to Volume Correction
There is a need for accurate natural gas measurement, and volume correction is the process of taking a gas meter's uncorrected volume and converting it to corrected volume based upon the effects of temperature and pressure. This correction increases the accuracy of natural gas measurement.
Natural Gas Measurement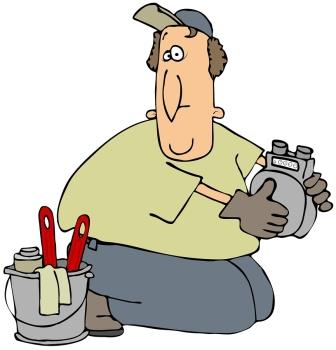 Earlier posts discussed how natural gas meters have evolved to improve gas measurement accuracy. As needs arose, meters were developed to satisfy various applications. Even though the meters were more accurate, our understanding of gas laws—pressure and temperature influence flow measurement— shifted the momentum to find better ways to correct volume for pressure and temperature.
Custody transfer is a metering point where natural gas is measured for sale and ownership transfers from one party to another. Accuracy is a prerequisite in fiscal metering, dictated by industry standards, government regulations, custody contracts, and metrology standards.
Mechanical Correction
The gas industry set out to design devices that would adjust for the effects of pressure and temperature. In the 1950s, some of those mechanical devices were chart recorders and mechanical correctors or volume correctors.
The first mechanical volume corrector took an uncorrected volume of a gas meter and reflected the actual gas volume based on base conditions. Base conditions include the absolute pressure and temperature associated with natural gas transactions.
A full scallop recorder was also designed to combat the effects of temperature and pressure on volume. The chart recorder recorded the corrected volume on a time-based rotating chart. This chart's data was later integrated for billing purposes at base conditions.
Electronic Correction
Fast forward thirty or so years, in the 1980s, companies like Mercury Instruments (now Honeywell Mercury) introduced electronic volume correctors (EVC). These were computers housed in enclosures so they could be mounted outdoors by the meter. This instrumentation compensated for temperature, pressure, and gas compressibility in real time. A meter reader would read the corrected volume from the device's LCD. Many of these instruments remain in service today.
Electronic volume correctors (EVC) are commonly used with various gas meters, including diaphragm, rotary, turbine, and ultrasonic meters. They are either directly or remotely mounted on the meters. The electronic corrector's primary function is to correct the gas meter volume and record the customer's usage information. It is essentially the cash register between the utility and the customer. Correctors produce accurate results from 0.002%-0.005% of the corrector's pressure range.
Audit Trail. In the 1990s, another breakthrough in electronic correction was the audit trail, which allowed data to be downloaded and electronically saved.
Telemetry. In the 1990s, introducing a modem to transmit electronic data through telephone transmission became the beginning of advanced electronic metering.
Wireless. As technology has evolved over the years, wireless modem communications can now transmit data.
Today, electronic correctors are the central component of many gas measurement systems and perform beyond their primary task of correcting volume. They routinely interface with automated meter reading systems (AMR) and automated meter interface systems (AMI). The electronic corrector communicates alarms, maintenance information, and customer usage information to the utilities data collection system.
Gas Metering Made Smarter Video