Lucas Cox on Work, Play, and Soon-To-Be Dad
In this month's Employee Profile, Lucas Cox shares the ultimate triple challenge: conquering the workplace, mountains, and fatherhood with gusto.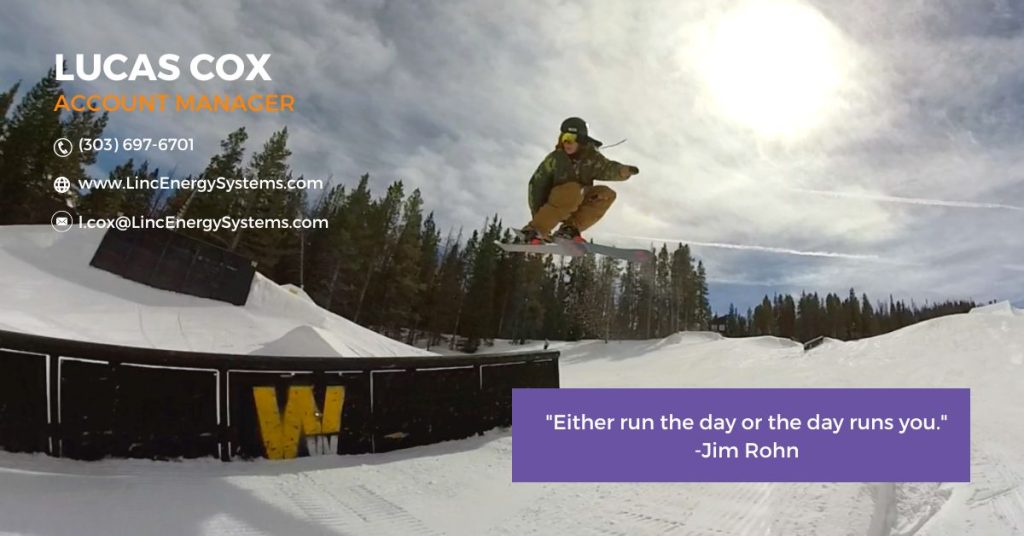 Meet Lucas Cox
Lucas started his career at Linc Energy Systems Inc. in 2020. It didn't take him long to become a subject matter expert on the various types of regulators, meters, odorizers, and analyzers in Linc Energy's popular sales line. Lucas is now an account manager and spends much of his time doing what he enjoys most for work: traveling, meeting with clients, working trade shows, commissioning, and providing training.
"It's definitely exciting but it can be exhausting," says Lucas of his travels, quickly adding, "but it's never boring and each day brings something new."
According to Lucas, traveling to various cities throughout the country lets him get closer to clients.
"Being on the road allows me to make and build relationships on a more personal level," he says. "I also get to see and explore places I've never been to."
As much as he enjoys traveling, he says he always looks forward to coming home to his family in Littleton, Colorado and to his work-family at Linc Energy's nearby offices and warehouse in Lakewood.
"We're close," Lucas says of his colleagues. "We keep it light and we're all supportive of each other."
Work-Life Balance and Baby Makes Three
For Lucas, a soon-to-be dad, the only thing better than work is spending time with his wife Jocelyn and planning for their new addition.
"The baby is due in December, so we're pretty excited!"
Lucas met Jocelyn several years ago while attending Colorado Mountain College in Breckenridge. They share a passion for outdoor sports, playing with their dog Ziggy, creating new recipes together, doing barbeques and pool parties, skiing together and listening to live music at Red Rocks.
"Nothing fancy," he says. "We like to keep it simple."
#ParkSkiing
The one thing Lucas doesn't keep simple is skiing. During the hot summer months, you'll find him behind a boat on a surfboard or a wakeboard.
When winter rolls around, Lucas lets it all go on the slopes. "I like doing the steep downhills in the back bowls, but I really like skiing in the trees or freestyling on the jumps and rails in the terrain parks, especially at Woodward at Copper."
Lucas is referring to the terrain parks in Summit County. That's where his mad ski skills leave onlookers in disbelief. To see him fearlessly spinning off rails, dropping cliffs, or speeding at 70 mph is truly breathtaking.
For his next trick, Lucas will have to master the fine art of working, playing and parenting. We have no doubt he'll figure it out quickly and do it like a pro!
Contact Lucas
Contact Lucas at (303) 697-6701 or email him.