Kevin Clark Joins the Sales Team and Becomes a Regulator Guru
In this month's employee profile, Michelle McGowan introduces us to Kevin Clark, one of the newest sales team members and natural gas regulator specialist.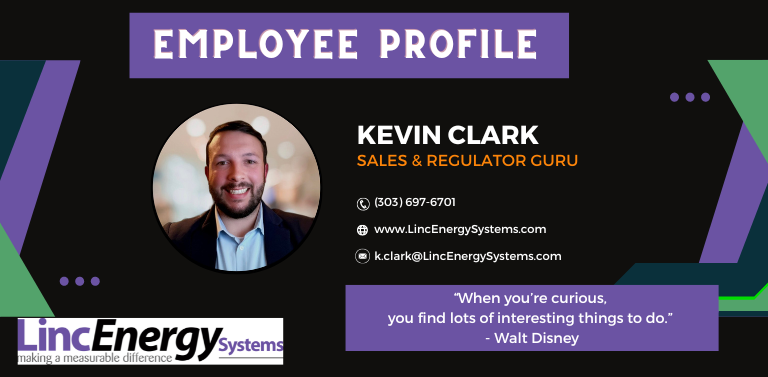 Meet Kevin Clark
Many people say that when they first met Kevin, he made them feel as if they had been friends for years. That's probably because, to Kevin, strangers are just friends he hasn't met yet.
His big smile, outgoing personality, and ability to instantly connect with people are what make Kevin a perfect fit for Linc Energy Systems' sales team.
"Friends and family are what matter most to me," says Kevin. "Linc Energy is my extended family." He goes on to say, "We support and respect each other; we have each other's backs, and we genuinely like each other. Not everyone can say that about the people they work with."
It's About Solving Problems
After earning a Bachelor of Science in Sports Management with a minor in Business Administration from Colorado Mesa University in 2016, Kevin jumped headfirst into customer service and sales.
He strongly believes successful salespeople are in the problem-solving business first and sales second.
"When you think about it, good salespeople are problem solvers," he says. "I love it when I can help a customer find just the right regulator they need for their particular application or work with them to troubleshoot and resolve an issue with the equipment they're already using."
When he's not helping customers on the phone or out in the field talking to people about their needs, Kevin works the operational side of the warehouse; taking and ordering inventory, pulling orders, and readying products to ship to Linc's customers.
#SportsJunkie
When the workday is done, Kevin's idea of unwinding is attending any "live event" with friends, family, or his soon-to-be bride, Caitlin. His happy place is anywhere there's a high-energy crowd of fans. It doesn't matter to him whether they go to cheer on his beloved Denver Nuggets or the Colorado Avalanche at Ball Arena, take in a concert at Red Rocks or a local club where he loves to watch his buddy's band, Graham Good and the Painters. Some may even find that name familiar as Graham is a former Linc Energy employee living his dream.
"I love everything about going to a live event," exclaims the self-described sports junkie. "It's hard to describe, but for me, nothing compares to the excitement and energy I get at live games or concerts."
Experiences Over Gifts Any day
Kevin met his fiancé Caitlin at a mutual friend's wedding in 2017. Now the two are inseparable. They share a love of skiing at Beaver Creek, spending time with family and friends, trying new restaurants, and traveling.
"Caitlin and I prefer experiences more than gifts," says Kevin. "Just recently, we gave each other a trip to Vegas; we took in some shows, discovered new restaurants, and did a little gambling." Going on to say, "Now we have priceless memories of our adventures together."
Spoken like a man who will no doubt be as successful at being a husband as he is at being a good friend to everyone he meets.
Favorite Quote
When you're curious, you find lots of interesting things to do. -Walt Disney
The best way to reach Kevin is by email or call him at (303) 697-6701.