Shift Happens, and Garrett Cox Is Staying Balanced Through It All
When Garrett Cox walks into a room, people take note! He stands a towering 6 feet, 7 inches tall and has a deep voice that matches his stature. The only thing you wouldn't expect from someone with such a commanding presence is a self-described introverted extrovert.
"I'm definitely an introvert, but I put that aside for work."
It's a good thing since he's been in sales for his entire career and now is at the helm of the sales department at Linc Energy Systems.
Garrett joined the Linc Energy sales team in 2013, responsible for providing tech support, training, and sales for Linc's more technical product lines, such as Honeywell Process Controls, Honeywell Mercury, Sage Metering, and GPL Odorizers.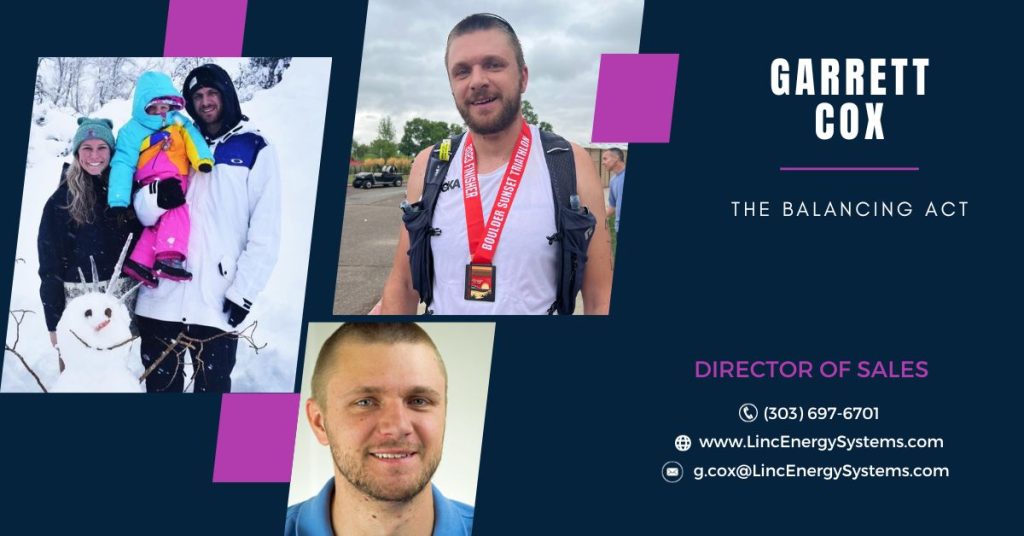 A Shift in Focus and New Priorities
In his new role as the director of sales, Garrett still provides training classes, calls on customers and prospects, and attends a few trade shows, but his focus has shifted somewhat.
"I'm looking at the bigger picture of the business and working more closely with Operations, Engineering, and Marketing to strategize, coordinate, discuss new and emerging markets, and make sure we have a steady stream of information flowing in and out of all our departments," says Garrett as he seamlessly shifts to talking about his priorities.
"I have three main priorities: One is making sure everyone here is on the same page. Another priority for me is mentoring and guiding members of our sales team to help them grow professionally. The third is to keep us focused on service. I want our customers to know we're here for them and in this for the long haul."
A Generational Shift
Right now, industries everywhere are facing a generational transition. Companies like Linc are seeing a large influx of younger people entering the workforce, while at the same time, many of the customers Linc has worked with for decades are eyeing retirement.
"There's definitely a mix of newcomers and the old-timers who've practically pioneered these industries, so we've had to ramp up the number of tailored training. We are teaching the beginners how everything works, and at the same time, we're making sure the older generation of our customer base is up to speed with the many new technologies of the products they're using."
A Shift to a Better Work-Life Balance
First and foremost, Garrett is a family man. He and his wife, Andie, are Colorado natives who were friends throughout high school but didn't begin dating until the end of their senior year. They married a few years later after attending college. They love sports and have spent countless hours together working out, playing with their three dogs, skiing, and cheering on their favorite basketball team, the Denver Nuggets.
Fast forward a decade, and they still love sports and the Nuggets, but their passion and focus have shifted to the new powerhouse in their home, their two-and-a-half-year-old daughter, Olivia.
"My little girl is at the age where she's exploring and off and running. We love playing with her and watching her become her own little person."
Even though most of their dates these days are play dates, they're still involved in sports. The pair has recently started competing in triathlons, often training 5-6 hours weekly.
"It's certainly a new challenge for both of us," says Garret, who often swims with a colleague during their lunch break and bikes and runs with Andie outside of work to prepare for the three grueling events of each race. "I'm not a strong swimmer or runner, and Andie is not a fan of swimming, so these events are definitely pushing us to expand our skills."
So far, Garrett has competed in two triathlons with his cousin and hopes to do another with Andie soon.
Speaking of spending time with family, Garrett says he's excited to spend more time with his younger brother, his wife, and his brother-in-law and sister-in-law, who are all about to become parents.
"I'm looking forward to getting our families together for barbeques and vacations so they can all play and grow up together, just like we did with our cousins when we were growing up."
We love seeing all of the amazing shifts happening in Garrett's life and have no doubt he'll continue to adapt and grow with the flow.