Itron Residential and Light Commercial Regulators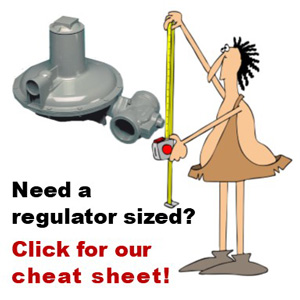 Itron spring-loaded service regulators are simple, direct-acting units designed for accuracy, safety and dependability. These regulators are primarily for the final stage, lower-outlet pressure applications (inches w.c. to 2 or 5 PSIG). Typical uses include residential and low-outlet pressure commercial and industrial gas supply and all gas-fired equipment including furnaces, boilers, ovens, dryers, and heaters. Itron service regulators provide a speedy response to changing downstream flow conditions. The spring-loaded regulators include unique features to offset pressure droop at high flows caused by the spring and diaphragm effect.
The Itron B42 regulator is conventionally built, incorporating a molded diaphragm and increased lever ratio resulting in a lighter, more compact unit providing the power, capacity, and relief performance of substantially larger units. Because of its reduced weight, it is easier to handle and install especially in limited spaces, and it has a lower profile meter set. The Itron model B-42 is used for residential services, 2 PSIG systems and light commercial services.
The high-performance B31 regulator has a sizeable operative diaphragm area and a powerful lever ratio. The Itron B31 maintains proper regulation over a wide flow range on systems with extreme differences in inlet pressure to deliver high capacities with low inlet pressures. The service regulator applications include demanding residential and light commercial services.