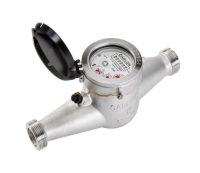 SSM Residential Water Meter | Commercial and Industrial

The Carlon SSM® residential water meter series provides accurate and reliable water flow measurements in residential, industrial, and commercial applications.
Carlon Meter SSM/SSMR Series
The meters have stainless steel bodies and are NSF/ANSI 372 certified for lead-free compliance, and also meet AWWA specifications. The SSM multi-jet meter has a long life and good tolerance to contaminants. The dry-sealed registers are easy-to-read, and the display remains clear. The SSM meter is available from ⅝" x ½" to 2″ with maximum flow rates up to 160 GPM and pressures up to 150 PSI. Registrations are in gallons, cubic feet, or liters/cubic meters. The SSM residential water meter is a totalizing multi-jet meter for applications needing totalized flow readings at the meter. The SSMRS® has a reed switch for a dry contact electrical output.
Features & Benefits
Water Meter Features
Accuracy of ± 1.5%
Stainless steel bodies
No lead
NSF/ANSI 372 and AWWA
Trouble-free performance
Low flow accuracy
Digital Remote Counter available
Details
⅝" through 2"
Up to 160 GPM
150 PSI max
35-122 F
Register Options
Gallons
Cubic Feet
Liters/Cubic MetersNecessary connections provided by CarlonNecessary connections provided by Carlon