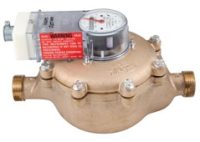 Industrial Meter

The JSJ water meter is designed for use in industrial and commercial water treatment systems where the chemical treatment is based on the amount of water flow.
The Carlon JSJ Electric Contacting Industrial water Meter measures water and provides a switch closure each time the pre-set amount of water passes through the meter. This signal can be used to actuate pumps, valves, alarms, or other equipment involved in the processing system. The meters include the standard Carlon all-bronze case with the time-proven design; equipped with a cam actuated normally open 10 amp micro-switch and totalizing register. When used in conjunction with a Carlon Timer, Batch or Pump Controls the JSJ meter can provide a check of both the number of gallons desired per cycle and the length of the signal for pump operation, valve opening, etc. They can also be used in conjunction with other types of electrically-actuated water treatment controls.
Features & Benefits
Offering These Advantages and Options:
Standard bronze in sizes 5/8″ – 2″
1/4 to 160 gallon per minute (GPM) capacities
Reliable accuracy and meets AWWA Standards
Outstanding low flow accuracy
Guaranteed shipment within 5 days. For urgent needs, shipment within 24 hours
Options
Optional Equipment:
Remote Counter up to 1000 feet from meter
Power Pack to signal multiple devices
Meter-mounted timers
Car-Logger
Registrations Available:
U.S. gallons
Cubic feet
Imperial gallons
Metric
Applications
For Use in:
Boiler water treatment
Cooling tower water treatment
Water softener regeneration
Chemical treatment systems
Batch processing
Energy management monitoring
JSJ Industrial Water Meters | Carlon Meter - Water Meters .., https://www.carlonmeter.com/products/industrial-meters-controls/jsj-industrial-me (accessed October 20, 2013).