Natural Gas Measurement, Control, and Odorization Log
We provide insights into natural gas measurement, control, odorization, and various natural gas products.
Natural Gas Regulator Sizing Calculators Programs, and Tools
In my earlier posts, I always encourage customers to call me, or our experienced staff to have their regulators sized for their applications. Every once in a while, a customer will ask for the links to the regulator sizing programs. For this reason, I am providing links to manufacturers' sites who offer programs, calculators, or sizing tools below. Please know, however, we still prefer to size our regulators the old-fashioned way. In other words, collect the information and message us, or call us at (303) 697-6701.
Need assistance sizing a reg? Call 303 697-6701 or message here.
Natural Gas Regulator Sizing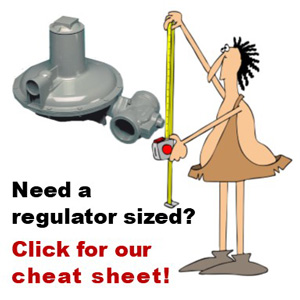 Click for Preston's Regulator Cheat Sheet!
Not all regulator manufacturers offer such tools – or they are not available at the time of this note [Belgas, Sensus (formerly Rockwell, Invensys, Equimeter), Honeywell (Elster American Meter)]. Of course, we cannot endorse the accuracy of any of these programs. In any case, before using the tools, you will likely be asked to provide:
Gas Type
Minimum Inlet Pressure (PSIG or " W.C.)
Maximum Inlet Pressure (PSIG or " W.C.)
Outlet Set Pressure (PSIG or " W.C.)
Maximum Capacity Required (SCFH, BTU/H)
Pipe Size
Location (indoor or outdoor?)
Perhaps more
Manufacturers Regulator Sizing Tools
Here are the links to pages that will direct you to the manufacturer's program or calculator:
If you're in the market for a new regulator, we'd love to hear from we. We offer a wide line of control instruments from the finest manufacturers.
Trackback URL for this blog entry.